Dear Reader,
Why on Earth would a $100 billion market cap mining and mineral exploration giant enter into a very public collaborative agreement with an almost unheard-of experimental battery company less than 1/600th its size?
Here's a little detail that might clear things up: This tiny company has a battery that can hold twice the charge of a standard lithium-ion battery, last three times as long, and charge 70 times as fast. 
Earlier this week, Anglo-Australian mining powerhouse Rio Tinto (NYSE: RIO) signed a binding collaboration agreement with a much smaller Australian firm in hopes of accelerating the deployment of a new generation of rechargeable batteries into the physically demanding mining sector. 
In exchange for preferred access to the proprietary battery technology, Rio Tinto has pledged a cash investment of $6 million. 
The story here, of course, is the battery maker. 
The First True 21st-Century Battery Is Here
Despite being a relative no-name in the battery business, this Brisbane-based company leads a pack of larger competitors in the race for a proper successor to lithium-ion as the global rechargeable battery standard. 
What this company plans to do will completely redefine rechargeable batteries as we know them today.
Rather than improving and redesigning existing concepts, this company chose to go a completely different route and created a cathode with no lithium to speak of, replacing it instead with a space-age nanostructure that's 100% man-made and manufactured in-house, with the novel production method patent protected.
This results in not only a quantum leap ahead in terms of battery performance, as mentioned above, but also a potential decoupling from China as the world's No. 1 supplier of lithium and lithium-ion batteries. 
The benefits are many, with none of the drawbacks. 
Install one of these new batteries in an electric vehicle and the range will jump to over 1,000 miles, with overall battery life extending into the 1 million–1.5 million mile range. 
Charging will take less than a minute, immediately erasing the No. 1 hurdle cited by would-be first time EV buyers: charge delay. 
These batteries will never catch fire. They will never explode. You will drive your car into the ground, wearing out every other major system before charge capacity decays by even 1%. 
The Best Free Investment You'll Ever Make
Join Wealth Daily today for FREE. We'll keep you on top of all the hottest investment ideas before they hit Wall Street. Become a member today, and get our latest free report: "How to Make Your Fortune in Stocks"

It contains full details on why dividends are an amazing tool for growing your wealth.
After getting your report, you'll begin receiving the Wealth Daily e-Letter, delivered to your inbox daily.
Li-ion Battery Market to Cross Quarter-Trillion-Dollar Threshold by 2030
That's how good they are, and that's why a massive multi-national resource corporation like Rio Tinto would be champing at the bit to get a hold of the technology. 
If these new cathodes deliver on the promise — and there's plenty of testing already on the books to indicate that they will — the entire lithium-ion battery market, projected to be worth over $270 billion by the end of the decade, will be under direct fire.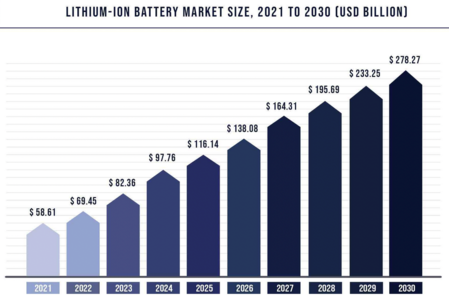 Which means today might be the speculator's best and last chance buy in at pre-commercialization share prices.
This battery maker, despite being one of the industry's best-kept secrets, is publicly traded. 
You can own its stock in minutes. All you need is a broker or an online trading platform. 
To get prospective investors started on their due diligence, I've put together this handy informational video. 
It's fast and entertaining and will answer all of your questions regarding the tech, the market, and the company that's making it all happen. 
Access is free and instant, but I urge you not to take too much time before watching. 
Since the Rio Tinto deal was announced yesterday morning, shares of this battery maker are up as much as 22%. 
Where it goes from here is anybody's guess, but one truth is unavoidable — it's still trading for just pennies on the dollar. 
Get informed right here, right now.
Fortune favors the bold,
Alex Koyfman

Check us out on YouTube!
His flagship service, Microcap Insider, provides market-beating insights into some of the fastest moving, highest profit-potential companies available for public trading on the U.S. and Canadian exchanges. With more than 5 years of track record to back it up, Microcap Insider is the choice for the growth-minded investor. Alex contributes his thoughts and insights regularly to Wealth Daily. To learn more about Alex, click here.