BALTIMORE, MD: In a week's time, I'll either be in the air over the International Date Line or standing in a customs queue. It will be the beginning of two and a half weeks in Asia, and perhaps the most important trip of my investment career.
I've spent months arranging face-to-face meetings with company leaders, bankers, and even start-up firms, and I won't have my mind dulled as I seek out the hottest and most obscure opportunities other foreign financial hawks miss.

I have no patience for jet lag, and I don't expect any slack from my Orbus Investor subscribers.

Neither do my associates, who are plenty and diverse on the ground in Asia: American businesspeople who have called the Far East home for decades, Japanese management experts, and leading members of the new wave of Chinese-born entrepreneurs.

I'll see it all, from Shinto shrines to China's new national bird–the construction crane.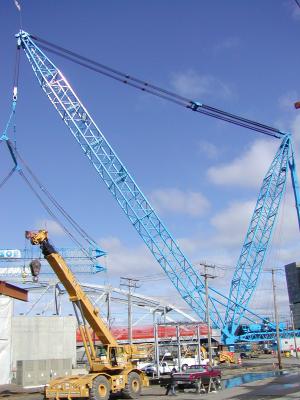 It's so much to take in that I've asked my hosts in advance not to regale me with too many local libations.
"We're gonna have to take it easy on the soju, sake, and baijiu," I tell them, referring respectively to Korean, Japanese and Chinese white lightning.

I'll be meeting with experts in diverse fields, giving me and my subscribers a palette of opportunities.
From the financial world to Asia's insatiable energy appetite, I'm on it.
Have you heard of China's renewable energy boom? Even with Yingli Green Energy (NYSE:YGE) up 259% since June and Suntech Power (NYSE:STP) logging a not-too-measly 63% in the same period?

Wouldn't it be nice to get on that kind of train before it leaves the station?
I'm hitting the big places and little places in China, all of which bear heavy significance in the country's jaw-dropping 11% economic growth.

I'll be in Shanghai, the country's economic capital. You see, I've been to Beijing before. I've been there long enough to get a burning sensation in my throat and eyes from the putrid smog that clouds the city, and I've been away from it long enough to know that the Shanghai Stock Exchange–not Beijing's political officials–will probably be the saving grace of this new "socialist market economy."

In the marketplace of ideas, Chinese citizens are putting their bets down in Shanghai. Retail investors are opening new trading accounts in the tens of thousands per day, and that's at the lowest point.

At the height of this year's Chinese bull market surges, over a million trading accounts were born each day!

Mao money (Mao Zedong's face graces each of his country's renminbi bills) is being rustled up from tin cans in auntie's kitchen and thrown into the Shanghai and Shenzhen stock exchanges.

In fact, the phenomenon might be more than China's domestic markets can handle.

But right off the coast, a sort of alternate Chinese reality exists. There's the Hong Kong Stock Exchange, whose traders carry on the legacy of British rule that ended a decade ago, and sophisticated Shanghai stock slingers are salivating to get their meathooks into Hong Kong's "H-shares."

In Hong Kong, I'll chat at the new Hong Kong Disneyland with the regional chief of one of my favorite international growth plays. It's a company that my Orbus Investor subscribers have known about for almost a year now, and its Asian approach is as comprehensive and impressive as any I've seen.

You can rest assured that my Asian growth strategy will mature greatly before November 21st. That's the day I touch back down on American soil, and the day before Thanksgiving.

And even in a groggy state that will be accentuated by large amounts of turkey, I'll be smiling.

Regards,

Sam Hopkins

P.S. I hope to spread my smile to you, as you take every step of my Asian excursion with me. I'm talking inside access to photos, street-level observations, and of course brand-new stock tips straight from the field. To learn more, click here: http://www.angelnexus.com/o/web/2969