Artificial intelligence (AI) is a rapidly growing field with the potential to revolutionize many industries. As AI technology continues to develop, there will be a growing demand for AI stocks. Especially for AI stocks under $10. 
Much like the tech boom of the late '90s/early '00s, tech stocks under $10 quickly became twice as valuable (or more) in no time. With a similar boom in AI tech, you can expect AI stocks under $10 to mirror the movement. 
In today's article, we'll go over the best AI stocks that are currently trading under $10. We will also discuss the red flags to look out for when buying AI stocks under $10. Taking advantage of the AI boom doesn't have to be hard. If you're going to purchase an AI stock under $10, I recommend taking a look at these companies…  
AI Stocks Under $10
SoundHound AI, Inc. (SOUN)
CXApp Inc. (CXAI)
Guardforce AI Co., Limited (GFAI)
Near Intelligence, Inc. (NIR)
SoundHound AI, Inc. (SOUN)
SoundHound AI, Inc. burst onto the stock market scene with its IPO in May 2022. Their platform is described as an "advanced conversational AI on an end-to-end tech stack." What that basically means is their AI tech is able to listen and interpret audio and conversations. SoundHound focuses on developing artificial intelligence (AI) and voice recognition technologies to enhance human-computer interaction.
The Best Free Investment You'll Ever Make
Join Wealth Daily today for FREE. We'll keep you on top of all the hottest investment ideas before they hit Wall Street. Become a member today, and get our latest free report: "Why You Need to Fire Your Money Manager."

It contains full details on why money managers are overpaid and provides you with tools for growing your wealth.On your own terms. No fees, no comission.
After getting your report, you'll begin receiving the Wealth Daily e-Letter, delivered to your inbox daily.
SOUN offers AI voice solutions for various industries like restaurants, smart devices, contact centers, and more. The company's technology powers voice assistants, smart speakers, connected cars, and other IoT devices.
Founded in 2005 by Dr. Keyvan Mohajer, James Hom, Majid Emami, and Dr. Ardavan Afshar, SoundHound AI aims to capitalize on the AI tech trend currently underway. Originally,  SoundHound gained popularity with its music recognition app, initially released in 2009.
Currently trading around $3.75, SOUN is a promising AI stock under $10. 
CXApp Inc. (CXAI)
CXApp Inc. came onto the scene on March 14th via SPAC merger. Upon entering the market, CXAI investors saw profits soar to the tune of 300%. But don't worry, it's not done yet.
Currently trading at $9.66, CXAI is a fine AI stock under $10 to consider. CXApp, Inc. is a global leader in employee workplace technology. It is an online platform and application that helps reduces workplace overload. Whether it's data fragmentation or complex workflows giving your company issues, CXAI is there to help.
Most recently, AI leader Naresh Soni was brought on board as chief technology officer (CTO). Soni has one goal as CTO: accelerate the company's AI and AR programs. With over 25 years in the industry and a proven track record, the move could be BIG for CXAI. 
With more time and money being invested into CXAI's artificial intelligence division, this stock might not be under $10 for much longer. 
Guardforce AI Co., Limited (GFAI)
Guardforce AI Co., Limited (GFAI) is a global security solutions provider. The company builds on a legacy secured logistic business by expanding into AI & robotic solutions services. Their solutions aim to improve operational efficiency for clients.
Guardforce has over 40 years of professional experience and a premier customer foundation. They are quickly establishing its presence in the Asia Pacific region and expanding globally.
The company announced its plan to go public via a prospectus supplement in May 2023. For those who don't know, a prospectus supplement is a document that provides additional information about a securities offering. It is filed with securities regulatory authorities and is used in conjunction with a base prospectus.
When a company plans to offer securities, such as stocks or bonds, to the public, it typically prepares a base prospectus.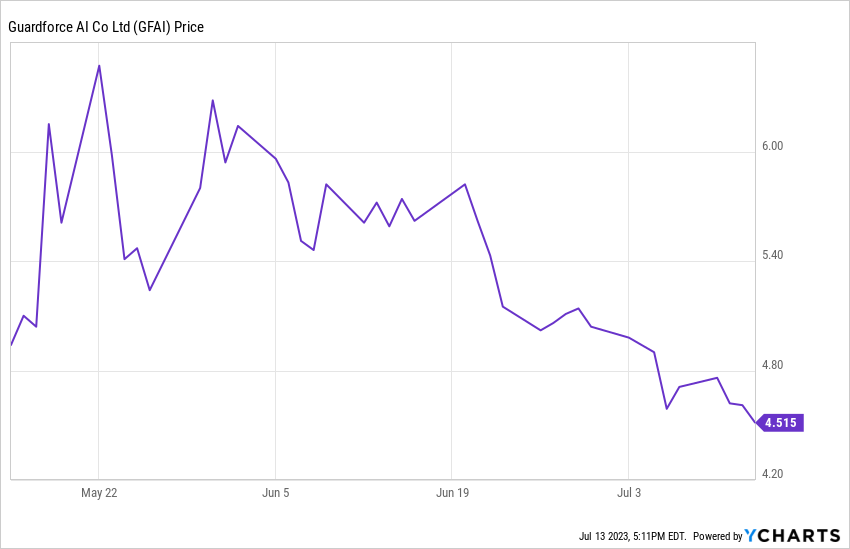 Currently trading at $4.52 GFAI is a strong AI stock under $10 for those looking with a cybersecurity angle. If you're a fan of penny stocks, you can also buy Guardforce AI under the ticker symbol GFAIW. Shares of the GWAIW currently trade for $0.30. 
Near Intelligence, Inc. (NIR)
Near Intelligence, Inc. (NIR) is another newly minted AI stock, although the company has been around since 2012. The company hit Wall Street via SPAC merger on March 24, 2023. Currently trading at $1.82, it's been a rough introduction for the new kid on the block. 
Near Intelligence, Inc. (NIR) is a cloud-based data intelligence platform that helps businesses understand and act on consumer behavior. The company's platform combines geospatial data, machine learning, and artificial intelligence to provide insights into customer journeys, preferences, and trends.
Their platform is used by businesses in a variety of industries, including retail, restaurants, automotive, real estate, media and technology, and more. The company's customers include some of the world's leading brands, such as ALDI, Coca-Cola, and Toyota.
Before You Buy AI Stocks Under $10…
Since OpenAI and ChatGPT burst onto the scene, AI stocks have been on a tear. That doesn't mean all that glitters is gold, however. OpenAI stock for instance isn't even an option yet. You can be sure that companies will take advantage of the hype for the wrong reasons. Before you go and buy any AI stock under $10 that you can find, you need to be wary of certain red flags. 
Some red flags investors should be wary of when investing in AI stocks under $10:
The company may not be using real artificial intelligence

. Some companies may add the word "AI" to their name or products in hopes of a stock boost, even though they don't actually use artificial intelligence.

The company may be too small or too early-stage to be a good investment.

AI stocks under $10 are often small and early-stage companies, which means they are more risky than larger, more established companies.

The company's technology may not be as advanced as it seems.

It can be difficult to assess the true value of a company's AI technology, especially if the company is not transparent about its research and development.

The company's financials may be weak.

AI stocks under $10 are often unprofitable, which means they may not have the resources to succeed in the long term.

The company may be making unrealistic claims about its technology.

Be skeptical of companies that make claims that sound too good to be true.

The company's management team may not have the experience or expertise to succeed.

Do your research to make sure the company has a strong management team with a track record of success.
While AI stocks under $10 may offer great profit potential, they also offer great risk. When investigating AI stocks, make sure to do your homework. At Wealth Daily and Angel Publishing, we've been covering AI stocks for years now. 
In fact, Jason Simpkins – my friend and colleague from Outsider Club (a sister company of Angel Publishing) – recommended C3.AI back in September 2022. Back then AI (its ticker symbol is literally AI) was trading at around $15. It has since been performing ideally. Take a look for yourself:  
While it was technically not an AI stock under $10, it is still a stellar AI play that delivered triple-digit gains. And a $15 AI stock is still pretty cheap, especially these days. 
If you want to learn more about some of the other stocks Jason is looking at, check out his premium newsletter Secret Stock Files.