Why Amazon Bought iRobot and How YOU Can Profit
Posted August 15, 2022
---
It might have slipped past you with all the news and headlines constantly flying in your face.
But Amazon announced big news this week that tells us a lot about its end goal: complete domination of your home.
The markets seem to be brushing off the implications of the announcement, but I see a very slippery slope forming.
And I also see a way for you to profit no matter how this whole thing plays out.
A Map of Your Life
You see, Amazon isn't buying iRobot because it makes a good vacuum. And it's not buying it because it has the ONLY home robot with any penetration.
It's buying it because iRobot owns the details of your entire house!
It's buying it for the mapping data it can then use to fill your home with more stuff you don't really need but that Amazon makes money selling.
It'll know how big your home is and how dirty it gets. It'll know how many rooms there are and even if there's a dog laying on the floor of one of them: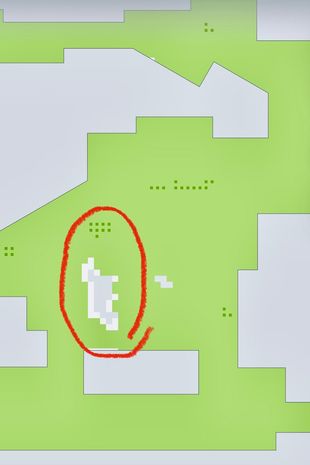 And if Amazon's history when it comes to protecting privacy in other purchases is a sign of things to come, we're all in for some trouble.
A History of Failure
Amazon failed miserably protecting privacy after acquiring video doorbell company Ring…
Ring cameras have been involved in previous hacking incidents where outsiders were able to intercept Ring video footage and take control of Ring cameras in people's homes.
Also, despite what customers were told when they purchased and installed the cameras on their houses, Amazon owns that footage.
The Best Free Investment You'll Ever Make
Stay on top of the hottest investment ideas before they hit Wall Street. Sign up for the Wealth Daily newsletter below. You'll also get our free report, "A Great Year Ahead for Natural Gas: A 2017 Outlook" by our expert research team.
And it will give it to the police whether you like it or not (and whether they have a warrant or not).
Maybe it's a good thing and Amazon is helping catch criminals. I don't know about that.
But what I do know is it's a firm reminder that if someone else owns your data, there's nothing you can do about how they use it.
And now Amazon is about to own a company that literally maps out the inside of your house.
That means it'll own those maps and it can use them however it pleases.
It can give them away or sell them to the highest bidder.
It can combine them with the medical data it'll get from its recent purchase of One Medical and create some really interesting statistics.
And you can bet it will make as much money off your data as it possibly can.
But there's a way you can claw some of that money back.
And it all has to do with how much Amazon has to pay to keep its massive business running…
Prime Profits
It takes a whole lot of money to keep a business the size of Amazon running.
You've got to pay the drivers and the sorters. You've got to have insurance. You've got to rent buildings and offices.
You've got to bribe the right politicians to keep your monopoly growing.
You've got to bribe the right agencies to keep your acquisitions rolling along.
It all adds up to hundreds of billions of dollars each and every year.
And when you've got so much money floating around a system, some of it's bound to get lost or misdirected.
And that's almost exactly what I uncovered over at Amazon.
Every year, the the company's paying hundreds of billions of dollars to keep growing.
And every year, some of that money gets "siphoned off" into a program I call "Prime Profits."
It's no chump change, either…
When I first uncovered it, investors could expect to split a lump sum of just under $1 BILLION.
Now, a few years later, that number's more than doubled to over $2 BILLION!!
And the next payout is coming in just a little under a month, on September 13…
I know that seems like a ways off, but it's only four weeks.
And a lot can happen in four weeks.
A lot can distract you in four weeks.
So even though you've still got a month to get your name on the list and claim your share of the $2 billion-plus payout…
I'm urging you to act now and get yourself set up TODAY.
Then you won't have to rush to get in at the last minute.
You can just sit back and relax as you dream about how to spend your money.
I've got all the details for you in this special presentation.
It's got everything you need to know to start cashing those checks year in and year out.
All you have to do is get started.
To your wealth,
Jason Williams
@TheReal_JayDubs

Angel Research on Youtube
After graduating Cum Laude in finance and economics, Jason designed and analyzed complex projects for the U.S. Army. He made the jump to the private sector as an investment banking analyst at Morgan Stanley, where he eventually led his own team responsible for billions of dollars in daily trading. Jason left Wall Street to found his own investment office and now shares the strategies he used and the network he built with you. Jason is the founder of Main Street Ventures, a pre-IPO investment newsletter; the founder of Future Giants, a nano cap investing service; the editor of Alpha Profit Machine, an algorithmic trading service designed specifically for retail investors; and authors The Wealth Advisory income stock newsletter. He is also the managing editor of Wealth Daily. To learn more about Jason, click here.
The Best Free Investment You'll Ever Make
Sign up to receive the Wealth Daily newsletter - it's absolutely free! In each issue, you'll get our best investment research, designed to help you build a lifetime of wealth, minus the risk. Plus, by signing up, you'll instantly receive our new report: Surviving the Coming Economic Collapse.
We never spam! View our Privacy Policy
After getting your report, you'll begin receiving the Wealth Daily e-Letter, delivered to your inbox daily.