A New California Law and COVID-19 Hit Ridesharing Stocks
Written by Samuel Taube
Posted May 10, 2020
---
A few days ago, I ventured out of my apartment to retrieve a microphone I had lent to a friend in the pre-COVID-19 days. She lives about half a mile away, so I walked over to her house.
By the time I left, the sun was setting. Between the darkness, the fact that I was carrying a fairly valuable electronic device, and the fact that I live in downtown Baltimore, I decided that taking an Uber (NYSE: UBER) back to my apartment would be a wise choice.
But when I opened the app and requested a ride, something seemed off. The app spent a good five minutes simply trying to locate a driver, and, when it finally did, it informed me that the closest driver was nearly 30 minutes away.
I cancelled the ride and opened Lyft (NASDAQ: LYFT) only to get the same result. I ended up walking home after all.
Both ridesharing companies have seen their driver and customer populations collapse in the wake of COVID-19 to the point where their apps effectively don't work anymore.
And COVID-19 isn't the only serious threat to ridesharing stocks today. In fact, even if we weren't in the midst of a devastating pandemic, Uber and Lyft would be in hot water due to a new California law…
The New California Law That Ridesharing Companies Hate
Last September, I wrote about California's Assembly Bill 5 (AB-5), a bill which threatened to shake up the gig economy by forcing many companies (like Uber and Lyft, for instance) to reclassify their drivers and other contractors as W-2 employees.
The bill — which became law on January 1 — attempts to expand basic labor protections, such as minimum wage laws, to these contractors. But in the process, it gives companies an unpleasant choice between jacking up their labor costs, paying extremely high fines (up to $2,500 per worker, per infraction), or leaving America's wealthiest and most populous state.
In the aftermath of the law's passage, Uber and Lyft didn't choose any of these options. They continued operating in California as they did before AB-5, apparently hoping that ignoring the law would somehow make it go away.
This tactic worked for a while… until Tuesday, when California Attorney General Xavier Becerra, along with a coalition of city attorneys general, sued Uber and Lyft for AB-5 violations.
The lawsuit seeks restitution for workers and civil penalties, which could add up to half a billion dollars or more.
In response, both ridesharing stocks dropped by double-digit percentages in the last week. Lyft lost nearly a quarter of its market value.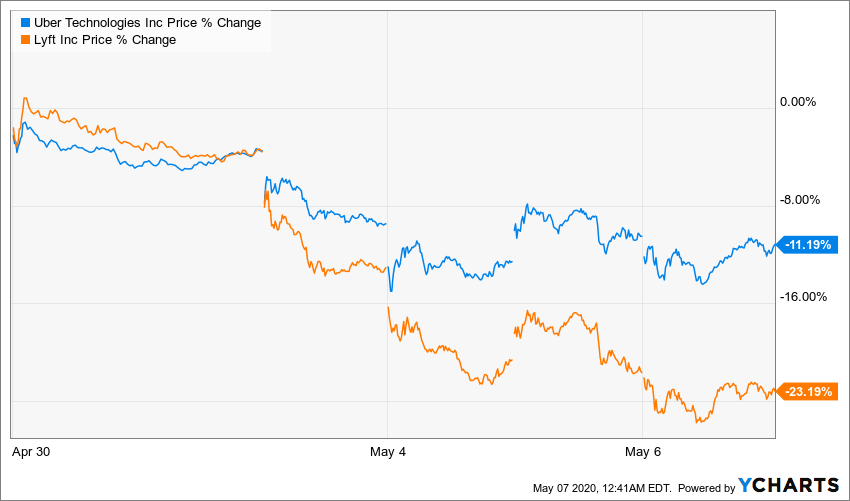 And this legal action could not have come at a worse time. The ridesharing industry is facing an unprecedented loss of revenue due to the pandemic, and it's impacting salaried employees as well as drivers.
The greatest free investment you'll ever make.
Join Wealth Daily today for FREE. We'll keep you on top of all the hottest investment ideas before they hit Wall Street. Become a member today, and get our latest free report: "What to Expect from 2020's IPO Market."

It contains full details of tips on how to take advantage of the hottest upcoming IPO's.
After getting your report, you'll begin receiving the Wealth Daily e-Letter, delivered to your inbox daily.
COVID-19: Hitting Rideshare Drivers and Employees
On Wednesday, Uber CEO Dara Khosrowshahi announced that the company would lay off 3,700 employees, or roughly 14% of its permanent workforce, and a leaked internal memo implies that more cost cuts are on the way.
"We are looking at many scenarios and at each and every cost, both variable and fixed, across the company," the CEO wrote. "We want to be smart, to move fast, to retain as many of our great people as we can, and treat everyone with dignity, support and respect."
And these cuts are understandable. According to a report released by The Information last month, Uber's transportation bookings have fallen more than 80% year over year as would-be riders and drivers choose to stay home to avoid COVID-19.
The company has a food delivery arm, Uber Eats, which should actually benefit from the crisis, but Uber Eats has never accounted for more than a quarter of the company's total revenue.
And Lyft has no delivery arm; it is entirely dependent on transportation revenue and could thus be in even worse shape.

Will Ridesharing Stocks Survive the Crisis?
It would be a bit premature to speculate that either ridesharing stock will go to zero as a result of this crisis, but they're both likely to see far lower valuations in the coming quarters.
Interested in tech investing but anxious to avoid overhyped, COVID-19-vulnerable money sinks like Uber and Lyft? Check out Technology and Opportunity.
Editor Jason Stutman has recommended five stocks since COVID-19 lockdowns began in March, and four of them are up by double digits. Click here to learn more.
Until next time,

Samuel Taube
Samuel Taube brings years of experience researching ETFs, cryptocurrencies, muni bonds, value stocks, and more to Wealth Daily. He has been writing for investment newsletters since 2013 and has penned articles accurately predicting financial market reactions to Brexit, the election of Donald Trump, and more. Samuel holds a degree in economics from the University of Maryland, and his investment approach focuses on finding undervalued assets at every point in the business cycle and then reaping big returns when they recover. To learn more about Samuel, click here.
The Best Free Investment You'll Ever Make
Sign up to receive the Wealth Daily newsletter - it's absolutely free! In each issue, you'll get our best investment research, designed to help you build a lifetime of wealth, minus the risk. Plus, by signing up, you'll instantly receive our new report: Surviving the Coming Economic Collapse.
We never spam! View our Privacy Policy
After getting your report, you'll begin receiving the Wealth Daily e-Letter, delivered to your inbox daily.