This is a true story. I have an image of my stock account to prove it.
It started in 2016. That year, many of my investment analysts were discussing creating a specific stock portfolio that focused exclusively on cannabis companies.
I immediately hated the idea.
But not because I was anti-weed. Quite the contrary.
My concern was that there was too much risk and uncertainty. The FDA could easily shut down the market. In short, it was an unproven investment thesis.
But there was more to my skepticism.
You see, the first-ever publicly traded marijuana company was Medical Marijuana (OTC: MJNA).
It debuted on the public markets in 2009. By 2016, the stock was down 75%.
But then some long-trading Canadian stocks — that hadn't moved in years — started moving.
To give you an idea, in 2013, Canopy Growth (TSX: WEED) was trading for just $0.05 a share. But by November 2016, it was nearly $12. It was a move of 23,000% in three years, a move that didn't go unnoticed by my elite league of forward-thinking analysts.
So what changed?
Well, the attitude in the States was starting to change. Colorado had legalized recreational use in 2012 and then legalized retail sales of cannabis products in 2014.
Pressure was building around the nation to let individuals use cannabis for medical and recreational purposes. And states saw an untapped source of tax revenue.
So marijuana dispensaries started popping up everywhere, to huge demand.
As a side note, I've seen this personally.
About a month ago, I took my 11-year-old son to the barber shop on a Sunday morning at 11 a.m. The barber shop is right next door to a dispensary.
As my son got his haircut, I noticed a non-stop conga line of customers going into the dispensary. I asked the barber if the dispensary was always this busy. He said, "Always."
And that there's "always a line waiting in the mornings for it to open."
We were in the barber shop for no longer than 20 minutes. In that time, I estimate I saw 40–50 customers go into the dispensary.
And the rest, as they say, is history.
And that brings me to my very first investment into the cannabis space.
In December 2016, the only publicly traded cannabis REIT came to the market. I purchased 1,000 shares of Innovative Industrial Properties (NYSE: IIPR) a year later for $19.52.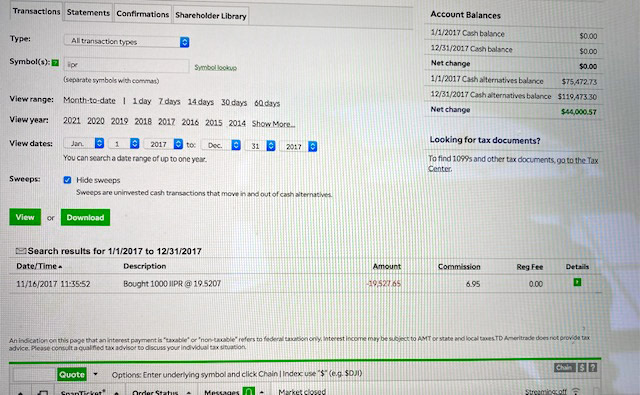 The dividend rate at the time of my purchase was around 6%. And that was the real reason I was buying it… I was seeking a steady stream of cash payments.
However, I never dreamt what was about to happen.
The Best Free Investment You'll Ever Make
Stay on top of the hottest investment ideas before they hit Wall Street. Sign up for the Wealth Daily newsletter below. You'll also get our free report, Marijuana Outlook: Best Stocks to Buy.
The underlying stock took off.
Take a look:
It got to a high of nearly $225 a share.
My 1,000 shares were worth $225,000 at that high. Throw in the distributions that were paid out during that time ($10,070, and the account value stood at $235,070.
My initial investment was $19,527. I've already recouped 50% of that with the distributions. My total return is over 1,000% and still kicking.
All from a cannabis REIT!
I'd be remiss if I didn't tell you that I got the idea of the cannabis REIT from my team at The Wealth Advisory. They were the ones to turn me on to the idea because they know I love REITs. In fact, my current portfolio consists of 33% in REITs.
I literally live off the distributions they kick off.
REITs are one the best ways to live financially comfortably and safely. When they crashed (along with the rest of the market) in March 2020, I backed up the truck (whatever that means) and bought as much as I could.
The entire REIT sector is up big since, about 72%.
And that brings me to this…
The boys over at The Wealth Advisory have another REIT they're extremely excited about. It has blockbuster written all over it.
In fact, the REIT increased its distributions 62% from 2019–2020. I highly recommend you take a look at the presentation they've put together.
Happy 4/20,
Brian Hicks

Check us out on YouTube!
Brian is a founding member and President of Angel Publishing. He writes about general investment strategies for Wealth Daily and Energy & Capital. For more on Brian, take a look at his editor's page.