If you're looking to buy OnlyFans stock, there is some good news and bad news. But before we get into how to invest in OnlyFans stock we need to break the bad news. There is no public ticker for OnlyFans stock. However, you can invest in OnlyFans through an alternative method.
If you've been keeping an eye on the entertainment world, you might have heard that Sopranos star Drea de Matteo recently joined OnlyFans. She's just one of many celebrities dipping their toes into this red-hot platform. But what's all the buzz about? And more importantly, could OnlyFans be heading for an IPO? Let's break it down.
If you don't know, OnlyFans is a subscription-based social media platform that allows creators to share exclusive content with their fans. Creators can earn money from their fans by charging a monthly subscription fee, or by selling individual pieces of content. The platform is popular with a variety of creators, including musicians, artists, fitness instructors, and even celebrities.
Since its foundation in November 2016, OnlyFans has taken the internet by storm and is headquartered in London, UK. As billions of dollars are being spent on the website, investors are eager to know when they can purchase OnlyFans stock.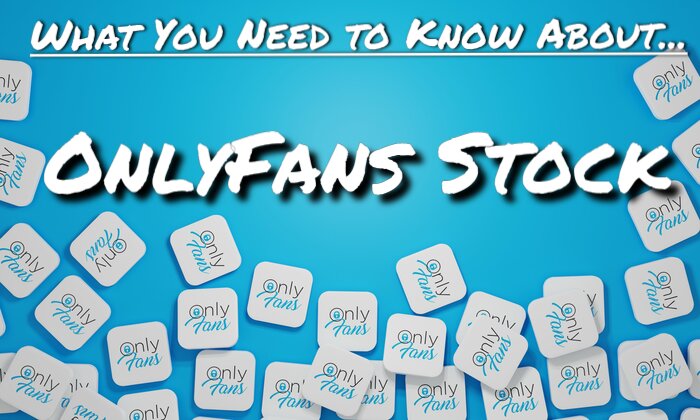 As mentioned above, OnlyFans does not have publicly traded stock. Fenix International Limited privately owns OnlyFans. It is a private company incorporated in the British Virgin Islands.
The Best Free Investment You'll Ever Make
Join Wealth Daily today for FREE. We'll keep you on top of all the hottest investment ideas before they hit Wall Street. Become a member today, and get our latest free report: "Why You Need to Fire Your Money Manager."

It contains full details on why money managers are overpaid and provides you with tools for growing your wealth.On your own terms. No fees, no comission.
After getting your report, you'll begin receiving the Wealth Daily e-Letter, delivered to your inbox daily.
The majority shareholder of Fenix International Limited is Leonid Radvinsky. Leonid is also the founder of MyFreeCams, another adult entertainment website. However, the public is not aware of the exact ownership of OnlyFans since Fenix International Limited operates as a private company.
Is There an OnlyFans Stock?
No. We can't stress enough how unfortunate it is there is no OnlyFans stock to buy yet. That being said, the company has expressed interest in possibly going public soon. OnlyFans was in talks with SPACs (Special Purpose Acquisition Companies) in 2022 about taking the company public.

However, stocks took a beating in 2022 and companies became hesitant to go public after a historic 2021 for IPOs. Now that the stock market is rebounding, we could see OnlyFans stock publicly listed by the end of the year. 
Like everything in the stock market, there is no guarantee that OnlyFans will go public. There are a number of factors that suggest that it is a possibility, however. The company has seen rapid growth in recent years, and it is generating significant revenue.
Right now, OnlyFans' revenue is growing at a CAGR (compound annual growth rate) of 174.3%.
In 2023, OnlyFans is currently valued at approximately $18 billion, which represents an eight-fold increase compared to its valuation in 2020. Talk about Growth!
Additionally, the market for social media stocks is currently very hot. If OnlyFans were to go public, its stock would likely be very popular. The fact that OnlyFans is waiting for ideal market conditions before going public is a good sign. Why taint OnlyFans stock and its holders because of volatility?
It's also possible that OnlyFans higher-ups have no intentions of an initial public offering anytime soon. If that is the case, investors would have to look elsewhere on the market for something similar to OnlyFans stock. 
If OnlyFans stock does become available to the public, it wouldn't necessarily be a silver bullet for your portfolio… 
The Controversy Behind OnlyFans Stock
OnlyFans stock not being publicly traded isn't the only hangup for potential OnlyFans investors. An IPO could easily address that problem, and expectations are high for the performance of an OnlyFans IPO. However, there are some potential holdups…
While OnlyFans has enjoyed rapid growth and popularity, it has faced both criticism and controversies. Concerns regarding copyright infringement, piracy, and the potential exploitation of creators have been raised. OnlyFans has implemented measures to combat these issues, such as copyright takedown procedures and verification processes for creators.
Marijuana stocks underwent a similar stigma. But you know what? The stigma didn't hurt the companies bad enough for investors to lose money. In fact, certain cannabis stocks and IPOs made investors millions. 
OnlyFans even has an advantage over marijuana stocks in that regard. OnlyFans is completely federally legal. There are no shady areas when it comes to that. There may be a moral dilemma with buying OnlyFans stock. If that's the case, then so be it. However, if two consenting adults desire to participate in a legal service and I can profit, I'm inclined to seize the opportunity. OnlyFans stock will provide that advantage upon going public.

Celebrities are flocking to OnlyFans for a reason. It's a way to connect directly with their fans, monetize their content, and gain creative freedom. Perhaps the recent celebrity influence could sway an IPO. Here are some pros and cons when considering an OnlyFans IPO:
Why OnlyFans Might Want to IPO
Capital Infusion: Going public can bring in a flood of capital. This could be used to improve the platform, expand its reach, and invest in new features.
Credibility: An IPO adds credibility and transparency to the company. It allows for independent financial scrutiny, which can attract more investors and users.
Cash Out for Early Investors: For early investors and founders, an IPO is often the path to cashing out their shares and reaping substantial rewards.
Why OnlyFans IPO Might be Delayed
Regulatory Challenges: The adult content aspect of OnlyFans has led to regulatory challenges. Going public might invite more scrutiny and potential legal hurdles.
User Privacy Concerns: IPOs come with increased pressure to monetize user data. OnlyFans has to tread carefully to protect user privacy.
Competitive Landscape: The online content subscription space is competitive. Going public means facing off against giants like Patreon and Substack.
Since buying OnlyFans stock is not an option yet, we can look at alternatives while we wait for the IPO. 
OnlyFans Stock Alternatives #1
OnlyFans (FANNED) is a unique and entertaining project inspired by the popular adult entertainment website, OnlyFans. However, instead of sexualizing individuals, the project takes a lighthearted approach by using actual fans to create a parody.
If you have any moral hangups with taking part in the OnlyFans IPO when it comes to fruition, perhaps this is your answer. Even if you don't have moral hangups and are just a fan of disruptive plays. You might find this alternative to OnlyFans stock intriguing.
Instead of sexualizing individuals, the project takes a lighthearted approach by using actual fans to create a parody. The primary goal of FANNED is to provide laughter, joy, and entertainment to its holders while offering a playful protest against the objectification of women often associated with the modern adult entertainment industry.
OnlyFans Stock Alternatives #2
Another alternative to buying OnlyFans stock is OnlyFans Token (ONLYFANS). It is one of the cheapest cryptocurrencies I have seen in a while. Take a look for yourself:

With only $21k in volume in a 24hr window, it doesn't seem like ONLYFANS will be catching up to BTC anytime soon. But, crazier things have happened to similar shitcoins and those who have bought them. 
Are these ideal alternatives to buying OnlyFans stock? I wouldn't say so. In fact, I will probably just wait until the OnlyFans IPO hits and take part in that. I'm not the biggest fan of "penny cryptos" as I like to call them. If I'm going to gamble, I'll log onto FanDuel. (By the way, when a FanDuel IPO is announced, we will cover everything you need to know about FanDuel stock.)
If the opportunity comes along for a pre-IPO investing deal in OnlyFans, I would certainly partake. However, those deals are not easy to come by. Especially for such a high-profile company like OnlyFans. 
Final Thoughts on OnlyFans Stock & Cryptos
If and when OnlyFans IPOs, it's hard to say what the opening price would be. While other social media platforms have gone public in the past, OnlyFans is not your average platform. While the product's extraordinary growth is undeniable, it is also regarded as taboo.
However, on Wall Street, the numbers take priority.
You can bet the OnlyFans IPO price to be between $50 and $100. Will OnlyFan stock pay a dividend? It appears that the private shares do pay a dividend. If the company goes public, I would expect that it would continue to pay a dividend. 
Overall, the potential for OnlyFans stock to be a successful investment is high. There are a number of factors that could contribute to OnlyFans' success as a publicly traded company. First, the company has a large and growing user base. The user base of OnlyFans demonstrates high engagement and a willingness to pay for exclusive content. Second, OnlyFans has a strong revenue model. The company generates revenue from both subscription fees and the sale of individual pieces of content. Third, the market for social media stocks is currently very hot. 
However, investing in OnlyFans stock also carries certain risksFirst, the company's content could be controversial. This could lead to regulatory scrutiny, which could impact the company's business. Second, the company's growth could slow down in the future. If this happens, the company's stock price could decline. Third, the company could be acquired by a larger competitor. This would likely lead to a decline in the company's stock price.
These are very realistic concerns for OnlyFans and its investors. But knowing all of this, if you could buy OnlyFans stock tomorrow, would you?