Buc-ee's is an American chain of convenience stores, gas stations, and travel centers found across the Southern U.S. When founding Buc-ee's in 1982 in Luling, Texas Arch "Beaver" Aplin III never imagined it'd grow this big.
The company is headquartered in Lake Jackson, Texas, and has over 100 locations in Texas, Alabama, Florida, Georgia, Kentucky, South Carolina, Tennessee, and Oklahoma. In fact, they have the largest gas station in the world, located in Sevierville, TN.
I actually had the pleasure of stopping by on my way home from Pigeon Forge, TN just the other day.
It was glorious. The gas pumps seemed to stretch on forever.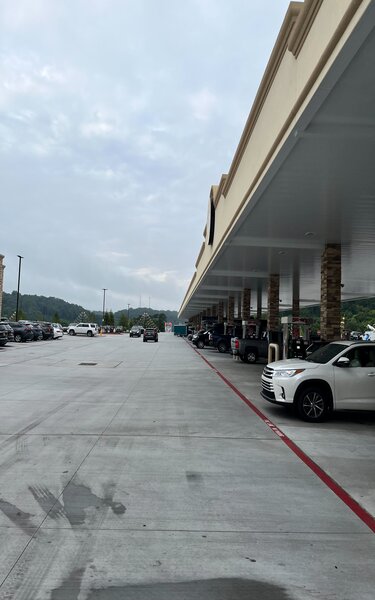 Truly an ocean of fuel pumps. They had multiple EV charging stations surrounding the fuel pumps, as well. I wish I had taken videos or pictures of the EV charging stations, cause I had never seen anything like it. More on that later though.
The best part was what was inside the MASSIVE convenience store.
The Best Free Investment You'll Ever Make
Join Wealth Daily today for FREE. We'll keep you on top of all the hottest investment ideas before they hit Wall Street. Become a member today, and get our latest free report: "Why You Need to Fire Your Money Manager."

It contains full details on why money managers are overpaid and provides you with tools for growing your wealth.On your own terms. No fees, no comission.
After getting your report, you'll begin receiving the Wealth Daily e-Letter, delivered to your inbox daily.
Inside the World's Largest Gas Station
Again, I wish I had taken more pictures – but I had no idea I'd be writing this article. I was merely just an excited tourist.
Inside the spacious 74,000-square-foot structure was anything you could imagine. From camping supplies to smokers, to booze, to some of the best breakfast tacos you've had (even for a gas station). 
But it's not just the plethora of fueling/charging stations or amazing food that make Buc-ee's special. It's not their cool merchandise either. There is truly an unmatched ambiance to the place. And yes, I realize I'm talking about a gas station.
Buc-ee's is more than just a gas station, though. And I don't mean it in just the literal sense.
After leaving the historic site of the largest gas station in the world, I started doing some research. I had recently written an article about some of the best gas station stocks to own, and I was getting ready to add another stock to the list.
What I found out was disheartening though.
Buying Buc-ee's Stock
Unfortunately, Buc-ee's stock does NOT trade on any public markets. If you are interested in investing in Buc-ee's, you would need to find a private investor who is willing to sell you shares of the company. However, this would be a very difficult task, as Buc-ee's is a very successful company, and its shares are likely to be very valuable.
You could also wait for a funding round, but that is unlikely to happen any time soon. It could also be possible to invest in one of their individual franchises.
Your best bet for investing in Buc-ee's would be to wait for the company to go public through an IPO. If Buc-ee's goes public, you would be able to buy shares of the company on the open market.
As of July 2023, there are no plans for Buc-ee's to go public through an IPO. 
However, there have been some rumors that Buc-ee's could go public in the future. The company's rapid growth in recent years has fueled these rumors. Buc-ee's has opened over 20 new stores in the past five years, and the company is planning to open even more stores in the coming years.
If Buc-ee's does decide to go public, it would be a major event for the convenience store industry. Buc-ee's is one of the most successful convenience store chains in the United States, and its IPO would be highly anticipated by investors. If you're interested in learning more about pre-ipo investing, then I highly recommend checking out what Jason Williams has to say about how to invest in pre-IPO companies.
I wouldn't hold my breath for a Buc-ee's IPO, though. When asked about going public or franchising their stores, Buc-ee's gives a definitive answer: 
"As you may know, we don't take shortcuts with regard to the quality of our facilities, products, or staff. Franchises and publicly traded companies must constantly focus on the money, and the side effect can be reduced standards in exchange for increased profits. Our intention is to maintain our independence as a private company so we can continue to focus on the customers instead of the bottom line." – Buc-ee's Management 
It's nice to know that they're not solely focused on churning a profit. However, it stings a bit knowing that we may never get to buy shares of Buc-ee's stock. In addition to waiting for a Buc-ee's IPO, we have some other options. 
While We Wait for a Buc-ee's Stock…
Because Buc-ee's is a privately held company, it's hard to find exact financials. However, there have been some reports about the company's financial performance.
Buc-ee's estimated revenue in 2022 was $2.5 billion, with a net income of $200 million. The company's revenue has been growing at a rate of about 20% per year in recent years.
Buc-ee's is a very profitable company. The company's gross profit margin is estimated to be about 40%. This means that for every $100 in revenue, Buc-ee's makes a profit of $40.
The company's financial performance is strong. Buc-ee's has a lot of cash on hand, and the company is not carrying any debt. This gives the company a lot of financial flexibility, and it allows Buc-ee's to continue to expand its operations.
Some Other Fun Facts About Buc-ee's
I cannot stress enough that there is something special about this company. If they ever do decide to go public, I will be purchasing stock. If the locations are any indication of how management runs the company, we will see a Buc-ee's takeover in the next decade. 
Here are some fun facts about Buc-ee's that will help contribute to that growth:
They have the cleanest restrooms around.

The company's founder, Arch Aplin III, was inspired by the clean restrooms at the Love's Travel Stops chain when he was a child.

Buc-ee's stores are known for their large size. The smallest Buc-ee's "travel center" is 35,000 square feet, while the largest is 74,000 square feet. 

Buc-ee's stores sell a wide variety of merchandise, including Beaver Nuggets, jerky, fudge, clothing, and souvenirs. Not only is the merch awesome, but it's cheap! Like this cool Buc-ee's hoodie, which I got for under $25. Hoodies of this quality are usually $50+!
Buc-ee's is a popular destination for road trips.

The company's stores are often located along major highways, and they are convenient places to stop for gas, food, and souvenirs. I will never pass a Buc-ee's without stopping, if you see one, stop in and see what I mean. 

Buc-ee's is a popular employer in the states where it operates. The company employs over 10,000 people, and it is known for its good wages and benefits. General managers can even make as much as $150k.

Buc-ee's stores are always open 24 hours a day, 7 days a week.

The company has won numerous awards for its customer service, including being named the "Best Restroom in America" by USA Today.
If you want to learn some more interesting facts about Buc-ee's, check'em out their website!
The Final Say Buc-ee's Stock
As I said earlier, Buc-ee's is more than just a gas station. It is a pretty accurate manifestation of  America. It was founded on a Dream and built on hard work. When you step inside you witness the glories of Western capitalism first-hand. Between the high-quality food, impeccable restrooms, and welcoming staff, I'm not sure what the best part of the experience was. My only regret about visiting Buc-ee's is that now I know what I'm going to be missing for months, possibly years at a time. 
While a Buc-ee's IPO date is uncertain, one thing is. Buc-ee's will continue to grow and build a name for itself. Buc-ee's is already a rapidly growing company, and it's not stopping. The company has plans to open new stores in several new states, including Colorado, Missouri, and Wisconsin.
Buc-ee's is poised to take over the gas station industry. As I mentioned before, the amount of EV chargers at the Sevierville, TN location was mind-blowing. And that's about to be the new normal.
You see, there is about to be a MAJOR demand for EV charging infrastructure. Right now we currently have around 50,000 charging stations. But we need 500,000…
There are simply not enough EV chargers in place to meet the coming demand. But that doesn't mean that companies like Buc-ee's aren't working on it.
You see, while Buc-ee's stock is not an option for us investors right now, there are other options.
Plug-In Payouts to Pay For Our Buc-ee's Stock
When Buc-ee's stock goes public, I'm going to buy as much as I can. That means growing my money through other avenues. So what's the next best thing until a Buc-ee's IPO? Plug-in payouts.
Investors can profit every time an EV is plugged in through the Plug-in Payouts program. As Jason Williams says, "It's like having a golden ticket to the future of transportation."
People are already starting to profit handsomely from plug-in payouts.
There's…
John M. from Newton, Massachusetts, who received $48,590 last year…
Laurie B. who regularly collects checks for $4,400 a month…
And Brian D., a certified public accountant who collected an extra $12,268 in 2022!
Plug-in payouts are an amazing opportunity for people looking to get ahead of the trend. It's also a great way to supplement your future Buc-ee's stock purchase.
I'll let Jason Williams, founder of The Wealth Advisory and the analyst who discovered this amazing opportunity tell you more. He'll explain exactly how to get set up for plug-in payouts right here…
While you eagerly await a Buc-ee's IPO along with me, I encourage you to take a road trip to one ASAP if you have never been. Once you see it for yourself, you'll understand the hype. Oh, and make sure you get a brisket or hippo taco!