Who's Going Public? Cannabis IPOs in 2019 Part 3
Posted January 11, 2019
---
It's time for part three of my series on cannabis IPOs to look for in 2019.
So far, you've learned about Magical Butter, a Florida-based company that's revolutionized the cannabis culinary market.
You're also privy to all the deals and mergers that created Verano Holdings, owner of some of the most successful and widely recognized brands in the U.S. cannabis industry.
This week, as promised, I'm stepping up my coverage. In the past two weeks, I've only had space to cover one company in each article.
But today, I've got three for you. They've all got tangible assets and growing revenues. And all three are looking forward to going public in 2019...
Doctor, Doctor! Give Me the News!
First up today, we're going to take a look at the CBD industry with a California company that makes cannabis products that target pain and inflammation.
Pain management in the U.S. is obviously a major problem. And the available treatments leave a lot to be desired. Patients have to make a choice between living with excruciating pain and being prescribed addictive and deadly opioids.
But Dr. Kerklaan Therapeutics is trying to put a stop to the opioid crisis by using the painkilling benefits of cannabidiol (CBD).
CBD is another chemical in cannabis that exists alongside THC (that's the chemical that gets you "high"). And research is starting to show that it could be extremely beneficial as a natural treatment for pain and inflammation, among other things.
Andrew Kerklaan founded the company after decades of practice as a chiropractor in Europe and North America.
Throughout the course of his career, he was constantly amazed at the human body's ability to heal itself.
That led him to the conclusion that often the best treatment for ailments is the most natural and unobtrusive. And that is what led him into the world of medical cannabis.
The company has been growing by leaps and bounds since its formation. And as of the end of 2018, sales for its CBD products were doubling every month.
Management is predicting 2019 revenues to come in between $10 million and $15 million. And that could easily be an underestimate.
CBD sales are growing faster than anyone could have predicted — faster than pretty much any other part of the cannabis market.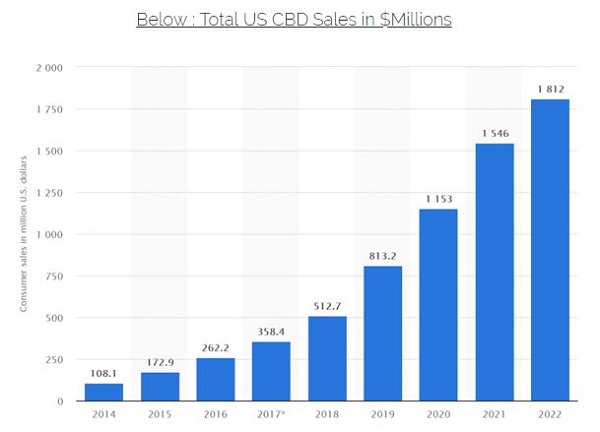 And they're legal without prescription in many states where other forms of cannabis are still illegal.
Management at Dr. Kerklaan Therapeutics knows the company has a ton of growth ahead. But they also know growth will come at a price.
So they're turning to the capital markets this year and taking the company public to help grow it to its true potential.
The Best Free Investment You'll Ever Make
Stay on top of the hottest investment ideas before they hit Wall Street. Sign up for the Wealth Daily newsletter below. You'll also get our free report, Marijuana Outlook: Best Stocks to Buy.
"Baby I Like It Raw" — Russell T. Jones a.k.a. Dirt McGirt

Now, let's turn our attention to an operation concentrating its efforts on another rapidly expanding corner of the market: cannabis oil.
Raw Garden was founded in 2011 in Santa Barbara County, California. And it's become the leading cannabis concentrate seller in the state.
Cannabis oil sales have seen a massive uptick. The company brought in $13 million in 2018. And it's predicting 2019 will be five and a half times bigger. Yeah, you read that right: from $13 million in 2018 to $72 million a year later.
And it's not that bold of a prediction. Cannabis oils are getting more and more popular every day. And they're predicted to become the fastest growing and one of the biggest revenue generators in the entire industry by 2022.
The company's flagship product is a high-potency vape cartridge. The oils come from Raw Garden's single-source resin, meaning the company keeps a very close eye on the quality of the plants that get concentrated.
And it's got a flavor in nearly every strain of cannabis you can think of. Literally hundreds.
The cartridges are pretty unique as well. They've got a ceramic wick so the flavor and potency of the concentrate aren't compromised. That also helps the oil last longer and brings customers running (or stumbling) back for more.
If Raw Garden goes public and management can make good on those sales estimates, we could see this stock shoot up out of sight in no time.
That Coast Is, Like, So Green, Man
For our third company, we're heading up northern California's rocky Pacific coastline to the Green Coast of Oregon and a company spearheading the push for sustainability in the industry.
Attis Trading Company was founded by a guy who really knows his herb. Eli Bilton got his medical card in 1996 in California. But his cannabis connection started long before that.
Eli grew up as a second-generation "farmer" in Humboldt County, California. That area has been known as the "Emerald Triangle" for decades thanks to the copious amounts of pot grown there.
So, saying he honed his skills with the experts is an understatement. Thanks to all that time in the foothills of Northern California, Eli has turned growing into an art. And he's got a proprietary family seed bank that dates back 40 years to draw on for more inspiration.
His company focuses on sustainable, holistic, and scientific grow operations, both indoors and outside. And it can now claim to be the leading purveyor of potent, ethically grown, clean cannabis in Oregon.
But Attis isn't just a growing company. It's a vertically integrated cannabis corporation.
Along with its grow facilities, Attis runs six dispensaries where customers can sample its wares. And it's got a state-of-the-art extraction lab to turn all that ethical cannabis into oils, potions, tinctures, and edibles.
The company hasn't disclosed any revenue figures. But it's got a stellar management team and a founder who's been building experience since before the industry even existed.
Attis should be a pretty solid IPO as long as a cannabis oversupply in Oregon last year didn't cut into sales too much.
Coming Soon
That's it from me for today. I've got two more companies that are planning a stock market debut in 2019, and I'll have those coming to you next week.
One plans to start trading this month. I'm going to be heading out to see its operations firsthand, but that may be after the IPO.
So I'll get you the write-up before I go and then come back with updates on the situation on the ground.
And since I'm spending all this time telling you about companies you can't even buy yet, I thought it would be nice to give you one you can.
It's a U.S.-based company. It operates in the medical market in multiple states. It's up over 100% in the last 12 months. And it's only going to keep growing as legal cannabis expands throughout the country.
You can get all the details in this presentation. Or you can read about the opportunity here.
If you're itching to get some skin in the game, or if you're looking for more gains to add to your pot profits, this is the investment to keep those funds growing while you wait for my IPOs.
To your wealth,
To your wealth,
Jason Williams
@TheReal_JayDubs
After graduating Cum Laude in finance and economics, Jason designed and analyzed complex projects for the U.S. Army. He made the jump to the private sector as an investment banking analyst at Morgan Stanley, where he eventually led his own team responsible for billions of dollars in daily trading. Jason left Wall Street to found his own investment office and now shares the strategies he used and the network he built with you. Jason is the founder of Main Street Ventures, a pre-IPO investment newsletter, and co-authors The Wealth Advisory income stock newsletter. He also contributes regularly to Wealth Daily. To learn more about Jason, click here.
The Best Free Investment You'll Ever Make
Sign up to receive the Wealth Daily newsletter - it's absolutely free! In each issue, you'll get our best investment research, designed to help you build a lifetime of wealth, minus the risk. Plus, by signing up, you'll instantly receive our new report: Surviving the Coming Economic Collapse.
We never spam! View our Privacy Policy
After getting your report, you'll begin receiving the Wealth Daily e-Letter, delivered to your inbox daily.