How to Build Your Own Stimulus
Posted July 29, 2020
---
We're getting pretty close to July 31 in case you haven't noticed. And that means the extra $600 a week in federally subsidized unemployment insurance a lot of Americans have been getting is about to stop.
It also means Congress and the White House only have a few more days to craft a stimulus package they all agree on. So far, the Democrats in the House have a $3 trillion plan and the Republicans in the Senate have a $1 trillion plan.
And that means they've got to figure out $2 trillion worth of differences in the next two days. I don't know about you, but I'm not betting the farm they'll be able to move that fast.
But I'm not the kind who wants to depend on the government for anything anyway. I've worked there. I've seen the waste. I've experienced the two-hour lunch breaks and the General Hospital marathons. And I can't imagine putting my well-being in its hands.
That's why I've spent my career finding ways to make sure I don't have to rely on the government.
DIY Stimulus
I know that when I get into my golden years, I'm going to need steady income to pay for my expenses. I also know that I've been paying into Social Security ever since I got my first job as a golf caddy at 14.
But I'm not counting on collecting any of that money. I probably will. My dad didn't think Social Security would last until he was able to collect it, but it did. And his dad, who was alive when Social Security was created, didn't think he'd get it.
But it's not something I'm factoring into my plan. It's a Ponzi scheme just waiting to fall apart.
So, I'm always on the lookout for ways to generate reliable income now, when I don't need to depend on it for survival.
I've been a landlord. I've been a lender. I've even tried my hand at selling restored furniture. But there's one thing that's outperformed every single strategy when it comes to generating steady income. And that's investing in companies that provide the critical support for major growth industries and reward shareholders for their loyalty.
Not only do they offer the steady income we'll all need in retirement, but they also give us a place to park cash and let it grow while we continue working for a living.
Once you've got enough of them in your portfolio, you can actually stop working for your money and, instead, let it work for you. You can, in essence, create your own stimulus package.
And to get you started, I'd like to share two of my favorite ways to generate extra income and pad your retirement account with profits at the same time.
Split $1.5 Billion in Prime Profit Payouts
If you're breathing, you're probably familiar with the 800-pound gorilla of e-commerce, Amazon.com.
It's one of the single greatest success stories in history. Started from a tiny office with a cardboard sign decorated with Sharpie markers, Amazon has become the biggest company by market capitalization in the world.
It was the first non-state-run company to be valued at more than one trillion dollars. And it's made founder and CEO Jeff Bezos the richest individual in the world to the tune of nearly $190 billion.
But that's not even the half of it. Literally. Estimates are that by 2026, Bezos will become the world's first trillionaire.
Just to put that in perspective, one billion is one thousand millions. And Bezos already has about 190 thousand millions.
And one trillion is one thousand billions, or one thousand thousand millions. That's a lot of freaking money. If he were a country and his net worth was GDP, by 2026, he'd be the 16th richest country in the world.
But it costs a lot of money to keep the business running and make Mr. Bezos richer.
Amazon offers over 350 million products for purchase on its platform. And every second, it sells 600 of those items. That adds up to $17 million in sales every hour.
The company pays billions every year to store, pick, package, and ship those products to its customers.
And there's a way you can get a piece of those payments...
We call them "Prime Profits" because the money is basically coming straight from Amazon's bank account and getting transferred into yours.
Last year, investors split $1.498 billion amongst themselves. But the payout has grown right along with Amazon's market dominance and Jeff Bezos' net worth. And this year, it'll be the biggest on record.
You've got about a month and a half before the next round of payments is calculated and the checks get mailed out. But you don't want to set this aside to take care of later and end up missing out when payday arrives.
So, take a little time today and learn how you can start collecting up to $48,000 a year in "Prime Profits."
Investing in Tech?
We have you covered! Sign up for Tech Investing Daily's FREE newsletter, Wealth Daily, today and gain first access to actionable stock market commentary, regular IPO updates, and weekly technical analysis. Plus, if you sign up right now, we'll immediately send you our free report: "The Downfall of Cable, and the Rise of 5G."
The 5G Tollbooth
"Prime Profits" isn't the only income stream I've uncovered that takes money from major companies and redistributes it to people like you.
In fact, I recently came across a similar opportunity that we've taken to calling the "5G Tollbooth Company." It gets paid a little "toll" every time someone uses the new 5G network, and it shares those tolls with investors.
And it's genius how it works. You see, the need for 5G has become critical now that businesses need to operate remotely to cope with rolling lockdowns across the globe. And the carriers are rushing to be the first to be able to offer true, nationwide 5G coverage here in the States.
But there's one small company that spent the better part of the last decade quietly buying up the most critical part of the 5G network — the fiber optic cables it's built upon.
And now, this company owns more of this crucial asset than any of the carriers or its competitors combined.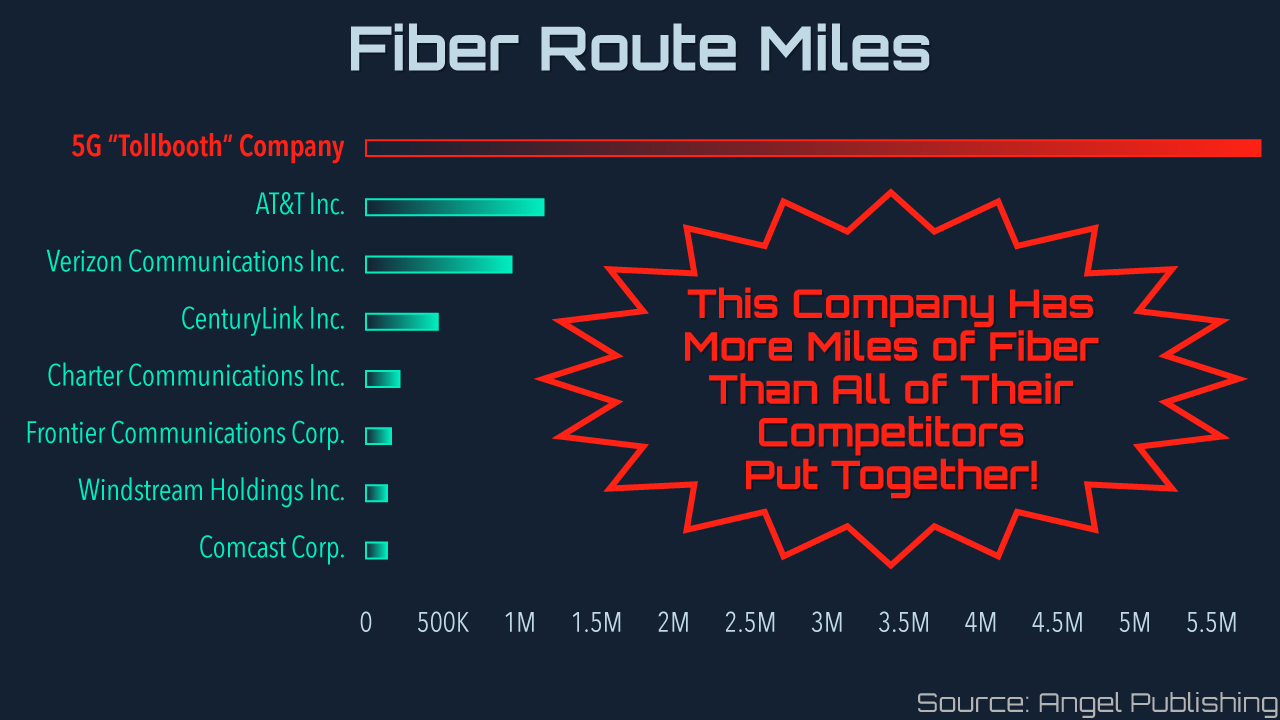 That means it's got the major carriers, like Verizon, T-Mobile, and AT&T, in a bind. They need access to these fiber networks so they can set up their wireless network. But this company has a near monopoly on it.
So, the carriers, the cable companies, and even the government are all lining up to sign deals to rent space on this company's network, like paying a toll to get on the new information superhighway.
But nobody's heard about this little company that's collecting all the tolls. And that's helped keep its share price very low — right around $10. But that's not going to last.
I can see the share price heading as high as $68 if everything lines up perfectly. That's a 580% gain from where it is today.
Plus, you'll get a share of every single toll the company collects from those wanting to access its network. So, you'll get paid steady income while you watch your investment balloon in value.
If that sounds like a win-win to you, you need to see this presentation. It outlines all the details and shows how you can get started profiting from the "5G Tollbooth Company" today.
Bonus: Netflix Royalties
There you have my top two income-generating, profit-boosting strategies. They've already helped thousands of people collect massive income payments and generate blockbuster profits. And now they can help you, too.
But I always try to over-deliver when I make a promise. So, today, I want to give you a sneak peak at a strategy that nobody has heard about yet.
In fact, my colleague and I won't be debuting the details until tomorrow. But I want you to be on the lookout for the special report we'll be sending out to you tomorrow.
It's a similar opportunity to "Prime Profits" and the "5G Tollbooth Company" in that you'll be profiting from a major company without ever needing to invest in that company.
The major company in this case is Netflix and its millions of regular users. And the opportunity is in a small firm that provides a crucial piece of technology for Netflix.
Without this company's assistance, Netflix literally couldn't operate at all. And thanks to that critical place it holds, Netflix pays the company a kind of "royalty" every time a customer uses its platform to binge-watch Tiger King (or whatever is "trending" at the time).
We've uncovered a way for you to profit from these "Netflix royalties," too. And we'll give you all the details in tomorrow's email.
For now, take some time today to check out the "5G Tollbooth" and learn how you can collect "Prime Profits."
Then, with the information in tomorrow's special report, you'll have built yourself a solid DIY stimulus package and you can stop worrying whether D.C. will get its act together or if Social Security will still be around in a few years.
To your wealth,
Jason Williams
@TheReal_JayDubs
After graduating Cum Laude in finance and economics, Jason designed and analyzed complex projects for the U.S. Army. He made the jump to the private sector as an investment banking analyst at Morgan Stanley, where he eventually led his own team responsible for billions of dollars in daily trading. Jason left Wall Street to found his own investment office and now shares the strategies he used and the network he built with you. Jason is the founder of Main Street Ventures, a pre-IPO investment newsletter, and co-authors The Wealth Advisory income stock newsletter. He also contributes regularly to Wealth Daily. To learn more about Jason, click here.
The Best Free Investment You'll Ever Make
Sign up to receive the Wealth Daily newsletter - it's absolutely free! In each issue, you'll get our best investment research, designed to help you build a lifetime of wealth, minus the risk. Plus, by signing up, you'll instantly receive our new report: Surviving the Coming Economic Collapse.
We never spam! View our Privacy Policy
After getting your report, you'll begin receiving the Wealth Daily e-Letter, delivered to your inbox daily.