Better Than Bitcoin
Why I'm Betting on Silver in 2021
Posted January 20, 2021
---
A little over a week ago, Bitcoin hit a new all-time high of over $41,000 after rising by 380% over the past year. It's since fallen back to around the $34,000 level.
But its once again meteoric rise paints an all too familiar picture of FOMO driving prices.
Bitcoin was running up, and people were hearing about others making a killing by investing in it. And there's not much that will get someone more upset than watching their neighbor get rich.
So people piled into the trade and it got really crowded. Eventually, there wasn't any more new money coming in and the sellers took over. Anyone who bought into the hype and picked up coins for $41,000 is down 17% as I type.
Now, Bitcoin will probably recover and rise more in the coming months. Long term, I'm a believer in digital currencies. Short term, I'm a little skeptical.
I also believe I've uncovered a much better way to protect your assets against inflation and make a quick profit off capital appreciation. It's much less volatile than Bitcoin, and it has a WAY longer track record of protecting and growing wealth.
Gunning for 2nd Place
Normally, I'm always in a race for first place. I know it's not likely I'll ever be the absolute best at what I do, but striving for that helps keep me improving every day.
But this year, I'm more interested in the prize you get for second place: that silver metal. And, yes, I know that's not how you spell that kind of medal.
But it's the metal the medal is made of that I'm really interested in this year. Because silver is poised for a massive rally, and if history is any indicator, it could start today.
Blue Waves Make Silver Gains
You see, the last time there was a Democrat sweep in D.C., it was a boom time for gold's less sought-after sister. Prices went from around $10 an ounce and set a new short-term peak around $60.
Why are Democrats good for silver? Three words: spending, spending, and spending.
And this time around, it looks like we're going to get even more of that. We could even add a fourth "spending" to that list.
I'm talking about fiscal stimulus, more fiscal stimulus, debt forgiveness, infrastructure spending, and the potential Green New Deal. All that sounds like printing presses going "wrrrr" to me.
And that sounds like currency debasement in the making. How many dollars will we be able to print before the world stops accepting them as a store of value?
My guess is not many more (if the world hasn't already caught on). That bodes very well for precious metals like gold. And when gold is in a bull market, silver goes parabolic.
Harness the Power of Rare Earths
Join Wealth Daily today for FREE. We'll keep you on top of all the hottest investment ideas before they hit Wall Street. Become a member today, and get our latest free report: "Three Rare-Earth Stocks to Buy for 2021"

It contains full details on how you should be investing in rare earths.
After getting your report, you'll begin receiving the Wealth Daily e-Letter, delivered to your inbox daily.
Buying at the Bottom
But if all that spending is going to be good for gold, and people pay more attention to gold, then why am I recommending you invest in silver?
Well, that all comes back to an old stock market adage you may have heard: Successful investors buy low and sell high.
And with gold just below all-time high prices, that doesn't strike me as the opportune time to be buying a stake...
The same goes for Bitcoin (in case you were going to argue that it's a store of value). It's setting all-time highs too...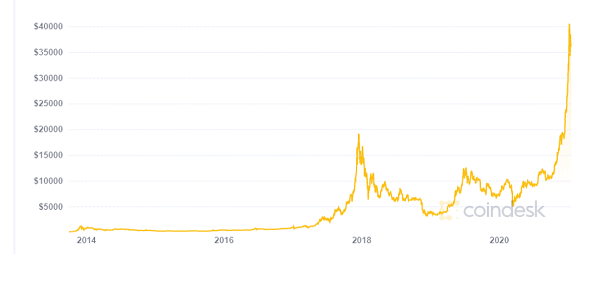 But silver is trading for about $24 an ounce as I type this. That's less than half it's most recent peak in the early 2010s. And it's almost $100 below its all-time high price of $119...
To me, those pictures are better than anything I could say. Gold is high. Bitcoin is high. Silver is low. If you're supposed to buy low, then silver is your only choice of those three.
So if you're getting some FOMO building, and thinking about jumping in on Bitcoin next time you see it start to climb, please, don't do it.
Look at the charts. Remember the old wisdom. Buy low and sell high.
And get yourself some exposure to silver and silver miners before this run really starts.
To your wealth,
Jason Williams
@TheReal_JayDubs
After graduating Cum Laude in finance and economics, Jason designed and analyzed complex projects for the U.S. Army. He made the jump to the private sector as an investment banking analyst at Morgan Stanley, where he eventually led his own team responsible for billions of dollars in daily trading. Jason left Wall Street to found his own investment office and now shares the strategies he used and the network he built with you. Jason is the founder of Main Street Ventures, a pre-IPO investment newsletter, and co-authors The Wealth Advisory income stock newsletter. He also contributes regularly to Wealth Daily. To learn more about Jason, click here.
The Best Free Investment You'll Ever Make
Sign up to receive the Wealth Daily newsletter - it's absolutely free! In each issue, you'll get our best investment research, designed to help you build a lifetime of wealth, minus the risk. Plus, by signing up, you'll instantly receive our new report: Surviving the Coming Economic Collapse.
We never spam! View our Privacy Policy
After getting your report, you'll begin receiving the Wealth Daily e-Letter, delivered to your inbox daily.