Dear Reader,
This past Monday, the New York City Council convened an emergency meeting following a November 5 high-rise fire in Manhattan's Midtown East neighborhood.
The fire, which left over 40 firefighters and residents of 429 E. 52nd street headed to the hospital, was the latest and highest-profile in a long line of e-bike battery fires to sweep through NYC in 2022.
To date, nearly 200 fires have been attributed to faulty lithium-ion batteries powering the city's estimated 25,000 e-bikes, resulting in 180 injuries and six deaths.
One of the culprits identified: uncertified refurbishment of lithium-ion batteries.
Though the city council was reluctant to issue an outright ban on the resale of e-bike batteries, heavy fines for violations of tight regulations on the practice will probably become the law of the land in the coming weeks.
Delivery workers, some of whom rely on cheap, readily available refurbished batteries, have already started making their voices heard in opposition to new restrictions.
Legal Tyranny: The American HOA
Where the government is limited in its ability to create new regulations, however, some homeowner associations have taken more drastic steps.
A number of the city's residential management groups, including Glenwood Management, which runs 26 luxury high-rises, have issued blanket bans on e-bikes for all units under their umbrella.
Of course, new laws, especially ones limiting commerce, are going to be met with pushback, but those attitudes change rapidly for those who have experienced lithium-ion battery fires firsthand.
Several years ago, at Angel Publishing's old office in Baltimore's Harbor East neighborhood, our company hoverboard, which employees and visitors took turns riding around our spacious shared workspace, spontaneously combusted while charging beside our CEO's desk.
It started with a firecracker-like pop. Within a  few seconds, smoke was pouring from the seams of the hoverboard's plastic casing.
As smoke turned to fire, the pops grew louder and more frequent, and burning particles began issuing from the machine's interior like bits of shrapnel.
We stood and watched in disbelief as our CEO picked up the disintegrating hoverboard and rushed it out the fire escape door.
For the next 10 minutes, that hoverboard continued to burn and explode, sending a column of smoke into the clear blue Baltimore sky.
Below is a picture of our futile attempt to control the fire. You can't see much, but the bright yellow glow beyond the gap should give you a good idea of the intensity of the heat.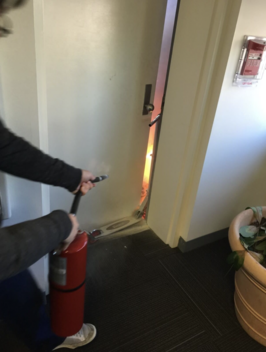 There was no putting this fire out. It was going to burn until it burned out.
The Best Free Investment You'll Ever Make
Join Wealth Daily today for FREE. We'll keep you on top of all the hottest investment ideas before they hit Wall Street. Become a member today, and get our latest free report: "How to Make Your Fortune in Stocks"

It contains full details on why dividends are an amazing tool for growing your wealth.
After getting your report, you'll begin receiving the Wealth Daily e-Letter, delivered to your inbox daily.
Lithium: A Quiet Killer
It's because of events like this that the NYC Council has become only the latest governing body to start cracking down on lithium-ion batteries.
The FAA, which has a much more critical interest in controlling sudden fires, has had laws on the books for years controlling the transportation of things like spare batteries, with limits placed on the number a passenger can transport, and even the charge levels of the battery.
Vapes and e-cigarettes are not allowed in checked luggage at all.
The problem with lithium regulations is that whatever their effects are, they do little to stop demand.
Lithium-ion rechargeable batteries have become ubiquitous to the 21st-century consumer, and their spectrum of applications only broadens with every year.
By the turn of the next decade, the annual revenue of the lithium market is projected to reach $200 billion — almost 5 times what it was as of last year.
If problems with fires are an issue now, then you can expect the rate to only increase as more and more refurbished batteries hit the market.
Spontaneous combustion, however, is only the tip of the iceberg.
Lithium Is the Coal of the 21st-Century Distributed Energy Storage Revolution
Between their limited capacity, the slow charging, and the little-talked-about matter of the Chinese Communist Party owning the lion's share of the world's lithium mining properties, the list of "small shortcomings" adds up to a crisis.
If we are to truly transition to an electron-driven economy, the world, as it stands, needs something better… a successor that's better in every way.
Higher capacity, quicker to charge, safer, and more reliable, with longer service life and less troublesome to source.
Right now a high-tech materials firm in Brisbane, Australia, is offering an answer.
It can be summed up in one word: graphene.
What was a Nobel-Prize winning experimental nanomaterial just a few years ago, can now be made cheaply and efficiently with nothing more than natural gas and electricity.
This patented process has opened up the door to the possibility of mass production of a graphene cathode — which has the potential to relegate lithium to the pages of history.
This Isn't a Typo
Here are just a few raw stats to give you an idea of the magnitude of the advancement.
If installed into a typical electric vehicle, graphene cathode batteries promise:
Three times the capacity, allowing for single-charge trips exceeding 1,000 miles.
Three–five times the service life, making the dream of the million-mile EV battery pack a reality.

70 times

the charge speed, giving EV drivers the ability to charge from 0–100% in less time than it takes to fill a standard gas tank.
No supply chain risk to speak of. All graphene is manufactured in-house, using the company's proprietary method.
And to those wondering if this is all just a theoretical science project, the answer is no.
The company is already producing commercial-grade coin and pouch batteries for testing by prospective client firms… which means we're in the pre-commercialization stage.
Now, with a product this close to disrupting one of today's fastest-growing industries, you'd think that the company that owns it all would be a multinational giant in its own right.
The Best Bargain on Wall Street Today
That's where you would be wrong.
This company, as of this morning, was worth barely $200 million… Even though it's stock is already public on two major North American exchanges.
You can literally buy shares today, in the next five minutes if you wanted, through any major online trading platform.
It's still small — less than 1/500th the size of some major Chinese lithium-makers — because the story hasn't been picked up by the mainstream media yet. 
That will change soon, enough, however… and when it does, buying stock will be like trying to chase a tsunami.
I've been bombarding my subscribers with information on this cutting-edge battery company for months now, because this is exactly the kind of story I live for.
You can find the rest of the info on the stock, the company, and the tech behind it all right here.
It's a quick video and will answer all of your questions.
Fortune favors the bold,
Alex Koyfman

Check us out on YouTube!
His flagship service, Microcap Insider, provides market-beating insights into some of the fastest moving, highest profit-potential companies available for public trading on the U.S. and Canadian exchanges. With more than 5 years of track record to back it up, Microcap Insider is the choice for the growth-minded investor. Alex contributes his thoughts and insights regularly to Wealth Daily. To learn more about Alex, click here.