Did you know that taking part in a successful tech IPO could set investors up for years to come? The last few years have been rough for tech companies. These rough conditions have made newer tech companies hesitant to IPO. But the tech IPO drought could be coming to an end soon…
The tech industry is constantly evolving, and with it comes a new wave of startups looking to go public. Investors are keeping an eye on a number of highly anticipated tech IPOs in 2023. These companies are all at the forefront of their respective niches, and they have the potential to generate significant returns for investors.
Overall, tech IPOs can be a good investment for investors who are looking for growth potential and innovation. In this article, we'll go over a brief history of some successful tech IPOs. Once we learn from history, we'll take a look at the best tech IPO to buy in 2023. 

Before we get into the history of some top-performing tech IPOs, we need to make sure we're on the same page. An IPO, or initial public offering, is when a company sells shares of its stock to the public for the first time.
Investors find tech IPOs particularly popular due to the perceived high growth potential of tech companies. So how do you know if a tech IPO is going to be successful? Let's take a look at some previous tech IPOs that treated investors well. 
Top Performing Tech IPOs of the Past
Even if you're not a veteran investor, you have heard of most of these companies. Even if you haven't heard of them, there is an overwhelming chance that they've affected your life in some way shape, or form. 
Facebook, now Meta (NASDAQ: META) – Went public in 2012 and raised $16 billion. Meta has more than doubled in value since then. 
Amazon (NASDAQ: AMZN) – Went public in 1997 and raised $1.6 billion. The Stock has since increased more than 100x in value. 
Apple (NASDAQ: AAPL) – Went public in 1980 and raised $1.5 million. Apple has since increased by more than 200x in value.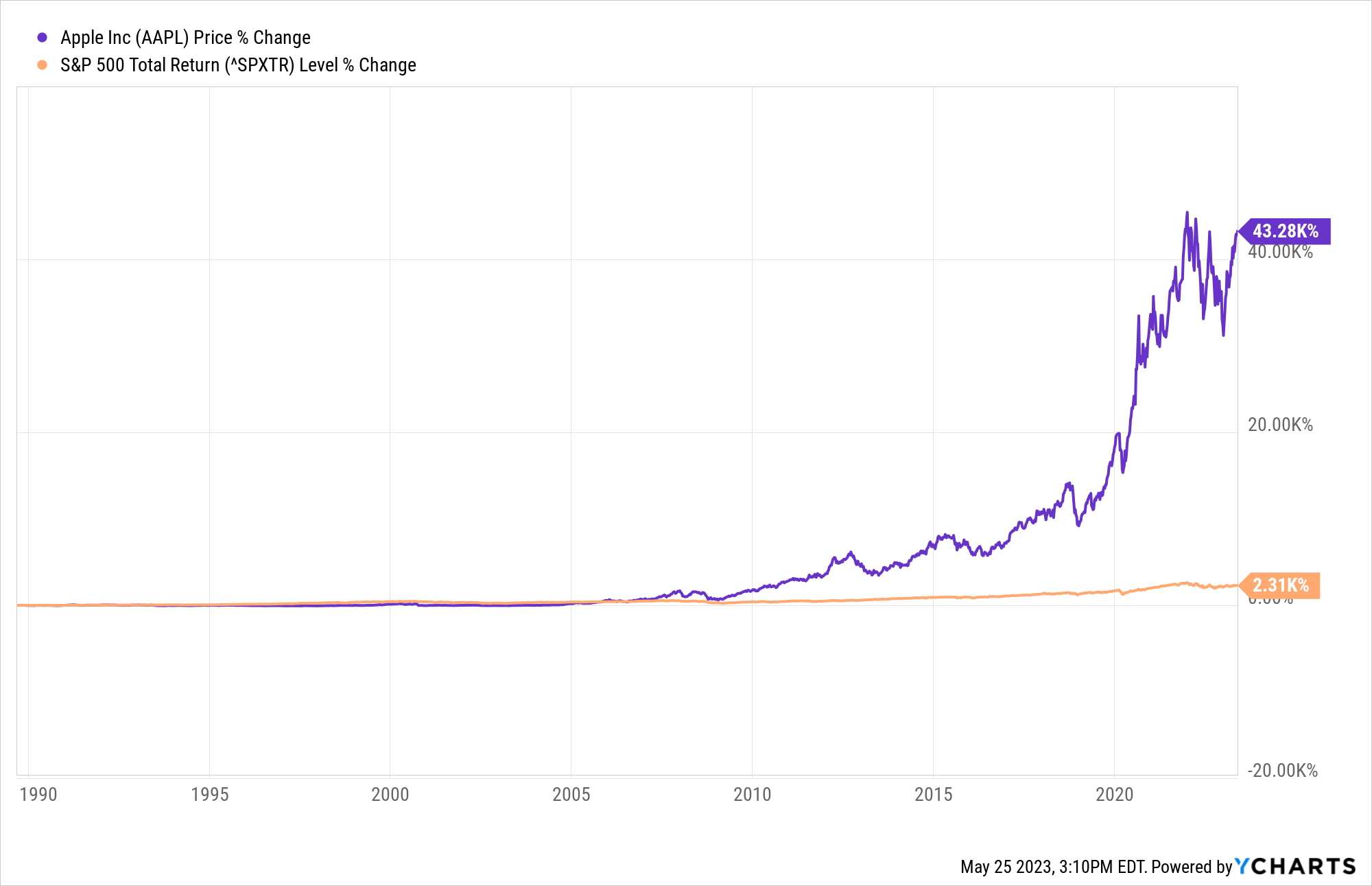 As you can see, all of these companies managed to make investors substantial returns from their IPO. So why were these tech IPOs so successful compared to others? Well, let's think about that. What do these companies have going for them? 
Innovation. Each of these companies was extremely successful thanks to their innovation. In addition to innovation, these companies had significant growth potential. If the growth potential is limited, it becomes challenging for a tech IPO to reach the moon. That is a sign to avoid that tech IPO (or stock in general). 
On the contrary, it is a very good sign if the growth potential is very high or even unlimited.
Another common factor between these tech IPOs? Brand recognition. Each of these companies was fairly popular and recognized by the public before going public. This part is crucial. 
Lastly, each of these companies had a rock-solid management team. They knew the goal in mind and how to execute it. So when looking for the best tech IPO to buy in 2023, you should ask yourself a few questions. 
Is the company/product innovative? Does the company have brand recognition? How big is the growth potential? And finally, who is steering the ship? Aka, who makes up the management team? These factors are all critical in determining whether a tech IPO could be a success or not. 
Tech IPOs to Keep an Eye On For 2023
While it's been a weird market for tech stocks lately, there are a few companies to keep an eye on. Below we have listed our top companies that we believe could have a successful IPO this year. 
In addition to the factors mentioned above about what contributes to a successful tech IPO, there are other things to consider. You should be aware of potential pitfalls as not all tech IPOs are created equally.
Tech companies are often valued at high multiples of their earnings. This can lead to some volatility in the stock price. The tech industry is also highly competitive. The competitive nature can make it difficult for certain companies to succeed. And lastly, regulation. The tech industry is subject to increasing regulation. Just look at the Montana representative that wants to ban TikTok from the state. This increased regulation can add costs and uncertainty to businesses. 
So now that we know what the good and bad signs of a tech IPO are, let's get to it. 
Tech IPO #1: Stripe 
Stripe is a financial services and software as a service (SaaS) company.  The company describes itself as a "financial infrastructure for the Internet." 
Millions of companies use their services – from small startups to tech giants like Google and Amazon. In fact, the company recently announced a partnership with Airbnb which is looking to enhance its payment system. 
Stripe provides a suite of tools for businesses to accept payments online and in person. The company was founded in 2010 by brothers Patrick and John Collison and is headquartered in San Francisco, California.
Stripe is expected to raise billions of dollars when it IPOs and is one of the most anticipated tech IPOs of 2023.  With a valuation surpassing $95 billion, the tech company is expected to go public in the first half of 2023.
Tech IPO #2: Databricks
Databricks is a cloud-based analytics company. They provide a platform for businesses to analyze large datasets. Databricks touts their one-of-a-kind "Lakehouse" platform where they utilize the data lakes and data warehouses. 
A data lake stores data in its raw format, while a data warehouse is a system used for data analysis and reporting. Data warehouses are a key aspect of business intelligence. Put them all under one roof and you have a Lakehouse. That is what Databricks brings to the tech world. 
The creators of Delta Lake, Apache Spark, and MLflow founded Databricks in 2013. Right now, it is the world's first and only data lakehouse platform. They have partnered with tech giants like Microsoft and Amazon, collaborating with over 7,000 organizations and companies.
With a valuation of more than $38 billion, Databricks is expected to go public in the second half of 2023.
Tech IPO #3: Chime
Chime is a financial technology company that provides a mobile banking app for consumers. Chime's growth has been rapid in recent years. The company's revenue has grown from $100 million in 2018 to $800 million in 2022. The market for mobile banking is large and growing. The number of mobile banking users is expected to exceed 250 million by 2025, considering the 200 million bank accounts in the US.
Chime is led by a strong management team with a proven track record. Chris Britt and Ryan King, the company's co-founders, have over 20 years of experience in the financial services industry.
The banking app offers a variety of features that make it a popular choice for consumers, including:
Free checking and savings accounts

No overdraft fees

Early direct deposit

Send and receive money instantly

Achievements for completing financial goals

Automatic savings
Chime is very popular among Gen Z, Millennials, and low-income consumers looking for more affordable banking options. It's no wonder it's so popular when it is free and as convenient as it is to use. The banking app also utilizes industry-leading security measures to protect user data. 
With a valuation of over $25 billion, Chime is expected to go public in the second half of 2023.
Tech IPO #4: Discord 
Discord is a popular voice, video, and text communication service that has exploded in popularity in recent years. Gamers primarily use Discord, but it has also gained adoption across diverse communities, such as artists, musicians, and entrepreneurs. We even use it here at Angel Publishing. In fact, if you want to join our Discord server, just accept an invitation right here. The company's platform is renowned for its user-friendly interface, extensive features, and robust security.
The company has seen massive growth in the last few years. The company's user base has grown from 5 million users in 2016 to over 140 million users in 2022. Discord's revenue has also grown rapidly, from $100 million in 2019 to $1.3 billion in 2022.
It doesn't show any signs of slowing down, either. The market for voice, video, and text communication is large and growing. The world has over 2 billion gamers, and the user base of voice, video, and text communication services is projected to exceed 3 billion by 2025.
Jason Citron and Stan Vishnevskiy founded the company in 2015, and its headquarters are located in San Francisco, California. With its strong management team and massive growth potential, Discord is a promising-looking tech IPO. 
With a valuation exceeding $14.7 billion, Discord is expected to go public in the second half of 2023. 
Tech IPO #5: Instacart
Instacart is a grocery delivery service that has exploded in popularity in recent years. Instacart allows users to order groceries from their favorite stores and have them delivered to their door. The company's platform is known for its ease of use, its wide selection of stores, and its fast delivery times. They became extremely popular during the covid-19 pandemic and haven't slowed much since. 
They have partnered with top wholesalers and grocery stores like Safeway, Costco, BJs, Wegmans, CVS, and many more. 
The company's revenue has grown from $100 million in 2016 to $1.8 billion in 2022. Instacart was founded in 2012 by Apoorva Mehta, Max Mullen, and Brad Keywell, and is headquartered in San Francisco, California.
With a valuation exceeding $10 billion, Instacart is expected to go public in the second half of 2023.
Tech Stock IPO Wrap-up 
So there you have it. The top tech IPOs that we will be watching over the next few months are:
Stripe 

Databricks

Chime

Discord

Instacart
Investors anticipate a strong tech IPO market in 2023 as they seek out growth opportunities in the sector. These are just a few of the many tech companies expected to go public.
Investors who are looking to get in on the ground floor of some of the most promising tech companies should keep an eye on these IPOs. By taking advantage of the early stages of a tech IPO, the shareholders stand a lot more to gain. 
Be sure to check back in on this article to see for any updates. As more information comes to light we will update this list accordingly. Although none of the companies have a set date for their initial public offering yet, we should be seeing announcements soon.