Penny stock trading isn't for the faint of heart.
It's risky. It's prone to fraud, manipulation and general skullduggery.
The lack of standards and public disclosures can make penny stocks more of an outright gamble than an investment, yet for the right investor it can be the
It's the investment equivalent of jumping out of a plane. Some do it because the plane is going to crash, but the bold do it for the thrill.
Fortune favors the bold.
Plenty of major companies started out as penny stocks.
For example, take one of the best performing stocks of this century, Monster Beverage Company (NASDAQ: MNST).
If you had bought $1000 of stock in Monster $0.10 a share in 2002, you have well over $620,000 today.
According to Business Insider, this makes Monster the single best performing stock of the century.
Shares have skyrocketed 60,000% since their public debut in 2003.
Penny Stock Basics
How To Catch Your Own 'Monster'
The SEC defines a penny stock as "a security issued by a very small company that trades at less than $5 per share."
Very often these companies have little or no financial history or a horrible one.
The underlying company is often near bankruptcy or in dire financial straits.
Typically penny stocks aren't traded on a formal exchange like the NYSE, they're traded OTC or over the counter.
This is because larger stock exchanges have stricter listing requirements.
OTC markets are different than the traditional auction system, as they allow for direct trading between two parties.
Penny stocks aren't for the risk averse.
They're for brave nerds willing to do their due diligence and research.
Here are some red flags to look for when looking at penny stocks.
Avoid companies that frequently change their names
Financial Statements that aren't certified by an auditor
Stay away from companies that pay dividends. Early stage companies need to be reinvesting that money.
Avoid companies that are not registered with the SEC
As for what you should be looking for. Relative stability and signs of growth are the name of the game. Ideally look for companies with
A tight share structure — fewer shares for a small company means that a.) individual shares will be valued higher, and thus carry an appearance of stability and b.) that positive news will have a stronger effect on trading volume as a percentage of the total market capitalization. In short, good news will drive gains faster
Strong profit margins — a good profit margin can be indicative of stability and future growth
Cash reserves — implies a healthy debt-to-equity ratio
Keeping all this in mind, we've gone ahead and put together a list of 5 penny stocks to watch in 2020.
Limelight Networks, INC - (NASDAQ: LLNW)
We've entered the golden age of content streaming.2019 alone saw the debut of two major streaming services, AppleTV+ and Disney+. In the first month of it's launch, Disney+ already garnered an impressive 24.5 million subscribers.
BusinessWire estimates that the average length of binge watching session has increased 18% over the past year.With numbers like that, it's no wonder every big content producer is jumping on the streaming train. Limelight might be the biggest name in streaming you've never heard of. WIth current and former clients like Amazon, the BBC and HBO, it's clear that Limelight's content management solutions have promise. They recently pivoted their business to an experimental form of edge cloud computing.This allows data to be processed closer to the source compared to traditional cloud computing, eliminating latency and enabling robust high-intensity applications.The transition led to substantial income losses for the company.However, it may have been the right move, as the company has quickly position it as a leading provider of edge cloud services.
iBio, Inc - (NYSE: IBIO)
The process of developing and producing drugs can be a long and winding nightmare.
Between clinical trials, fda approval and scaling production, it's no wonder medical companies are lining up to collaborate with iBio, Inc.
iBio is a full service contract developer and manufacturer of pharmaceuticals.They take products from preclinical development all the way through regulatory approval.
Using their proprietary FastPharming technology, iBio shortens the timeline a program can move from gene sequencing to protein production to as little as three weeks.
iBio is expecting big things in 2020 with their recently announced partnership with EdgePoint AI.Hot off their successful collaboration with IBM to bring cashierless purchasing transactions to the masses, EdgePoint AI promises to bring their blockchain-driven machine vision to iBio's proprietary FastPharming technology.This will allow iBio to automatically document, timestamp, and track data with greater precision in their pharmaceutical production.
Pacific Coast Oil Trust - (NYSE: ROYT)
Something historic happened in November 2019.According to the US Energy Information Administration, not only did the US produce a record breaking 12.8 million barrels per day of oil, but the US exported more oil than it imported. This is the first time this has happened since the EIA has been keeping records.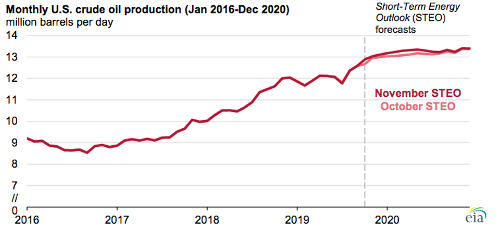 Pacific Coast Oil Trust is an oil and natural gas company with properties throughout southern California. They've been in a little financial trouble as of late. The company made the difficult decision to stop cutting a dividend to reinvest the money back into the company.
The Trump administration recently announced at the end of 2019 that it would open up over 720,000 acres of federal land in California for oil and gas development, ending the five-year moratorium on leases in the state.
Pacific Coast Oil Trust stands to benefit greatly from this.It may just be the thing keeping the Trust together. Combine this with the steadily increasing price of oil, and Pacific Coast Oil Trust becomes quite the attractive pick.
If oil prices continue to rise, serious money could be made off of their low stock price.
Chesapeake Energy - (NYSE: CHK)
Chesapeake Energy is one of the pioneers of shale gas in the US, specifically the drilling technique known as hydraulic fracturing or fracking.
They have six different oil and natural gas fields across the country.It's been a tumultuous decade for the Oklahoma CIty based energy company.
They've spent the past half decade trying to recover from the lavish spending and corrupt dealings of their former CEO, Aubrey McCledon.Named by Forbes as "America's Most Reckless Billionaire", McClendon was notorious for wild spending and personally investing and borrowing against Chesapeake. Some highlights of his wild spending include keeping 10 different Olympic athletes and the world's strongest man on staff and commissioning the first natural gas powered motorcycle on an episode of the smash Discovery Channel series, American Chopper.
Their former CEO, Aubrey McClendon and founder was eventually indicted for violating federal antitrust laws and died in a car accident the same day.
But there are signs that they may finally be turning things around.In 2019, CHK acquired Texas oil producer, WildHorse Resource Development.
Their new CEO, Doug Lawler, has stepped up and pushed the company to dramatically reduce spending and focus on paying down the company's debt.
The pivot seems to be working out for the company.CHK is being held up by strong oil prices and record oil production at their Brazos Valley oil well.CHK could certainly compliment a commodity conscious portfolio.
Nio (NYSE: NIO)
After months of anticipation, Elon Musk has finally opened the doors of Tesla's first gigafactory in Shanghai, but another electric vehicle maker is proving to be a major roadblock.Touted by it's CEO as the 'Chinese Tesla Killer', Nio is the country's most notorious luxury electric vehicle maker. Nio has established itself as the current market leader and has no intentions of giving up that position to Tesla.
Compared to Tesla, who no longer offers a quick battery swap, Nio is promising a fully-charged battery swap in under 3 minute at 1,100 swap stations across China.In 2020, the company is launching a brand new vehicle, the EC6, and introducing new long range driving battery packs.
After a strong 3rd quarter earnings report at the end of 2019, Nio's stock shot up over 50%.Combine this with the company's recent radical cost cutting moves and it's not hard to imagine a prosperous 2020 for Nio.
Both Tesla and Nio are poised to ride the wave of demand for electric vehicles in China. Due to a recent mandate by the Chinese government phasing out combustion engine vehicles over the long term and accelerating the targets for electric vehicle adoption, electric vehicle sales in China are predicted to exceed 5 million per year by 2025. With strong sales that have increased every consecutive month of the back half of 2019, Nio is positioning itself as the most serious competitor to Tesla in China's domestic electric vehicle market.
Closing thoughts
It's no secret that penny stocks are notoriously volatile. If you're not the kind of investor that can tolerate risk, please find a safer investment vehicle.Penny stocks aren't for everyone.If you've got room in your portfolio to play, then there is no more exciting place to be.
However, please do your due diligence and research the crap out of these companies before you buy.