The 18th-century British banker Baron Rothschild once famously said that "the best time to buy is when there's blood in the streets, even if the blood is your own."
There might not be literal blood in the streets of America's cities today, but there is another kind of carnage. At the time of writing, more than 12.4 million Americans have contracted COVID-19, and more than 257,000 have died of the disease.
Few industries have been closer to the economic epicenter of this carnage than travel. Airlines, cruises, and booking services were effectively shut down in the spring by lockdown orders around the world — and the effect on their stock prices was immediate.
For example, the U.S. Global Jets ETF (NYSE: JETS), an index of airline stocks, plummeted more than 41% between February 15 and March 15. It has remained depressed ever since.
And the nightmare isn't over yet. The U.S. recorded 2,015 COVID-19 deaths on Thursday, November 19, 2020, the highest reading since May. It also hit an all-time high of 187,000 new confirmed cases that day.
It might sound crazy to assert that this period of record caseloads and near-record deaths is a good time to buy airline, cruise, and booking service stocks, but in keeping with Mr. Rothschild's maxim, that is exactly what the data are telling us.
Why the "Epicenter Trades" Are Ready for a Comeback
After all, the COVID-19 situation may be bleak at the moment, but there are reasons for optimism in the near future.
Two biotech companies, Pfizer and Moderna, have developed experimental vaccines that have both demonstrated efficacies of more than 90% in late-stage clinical trials. Dr. Anthony Fauci, director of the National Institute of Allergy and Infectious Diseases (NIAID), believes that they could ship doses to some high-risk Americans by the end of December.
And as Americans get ready to emerge into a post-COVID-19 world, travel demand is making a comeback.
An October report from Morgan Stanley suggests that air travel will return to pre-COVID-19 levels by late next year. And according to a UBS report from several months earlier, some 76% of cruise passengers took a future cruise credit rather than a refund during the spring shutdown.
Cases may be rising — but with two vaccines on the way and 2021 demand heating up, investors may not get another chance to "buy the dip" in this industry before it starts to stabilize.
Of course, not all "epicenter stocks" are created equal. Market conditions are improving in the travel industry, but they're still far harsher than before COVID-19 — and there's still a risk that some weaker firms could fail.
In this climate, investors must look for deep-value stocks with resilient earnings, reasonable valuations, strong market positions, and low debt burdens to find those primed for big comebacks.
Three such "epicenter trades" stood out to our analysts...
SkyWest (NASDAQ: SKYW)
You may not have heard of SkyWest (NASDAQ: SKYW), but it owns the largest regional airline in North America when measured by fleet size, number of passengers carried, and number of destinations served.
Its lack of name recognition is due to its unusual business model — SkyWest Airlines primarily contracts for other air carriers like American Airlines (as American Eagle) and United Airlines (as United Express). In other words, it's paid to operate and maintain aircraft on flights marketed by other airlines.
This gives SkyWest Airlines a uniquely diversified position within the U.S. air travel industry. The holding company also owns an aircraft leasing company, giving it additional sources of revenue beyond customer tickets and partner airline contract fees.
And SkyWest has put those diversified revenue streams to impressive use in the last year.
One of the truly impressive things about SkyWest's fundamentals is that it has only posted a single quarter of losses during the entire COVID-19 crisis.
Most airlines — like American Airlines and United Airlines, for example — have posted massive losses in each of the last three quarters. But SkyWest remained profitable in the first quarter of 2020, recorded a small loss in the second, and then promptly returned to profitability in the third, posting earnings per share (EPS) of $0.66 against analyst estimates of a $0.19 loss.
As a result of this consistent profitability, the firm still has a reasonable price-to-earnings (P/E) ratio, even by non-COVID-19 standards. It trades for just 18.19 times 12-month earnings at the time of writing.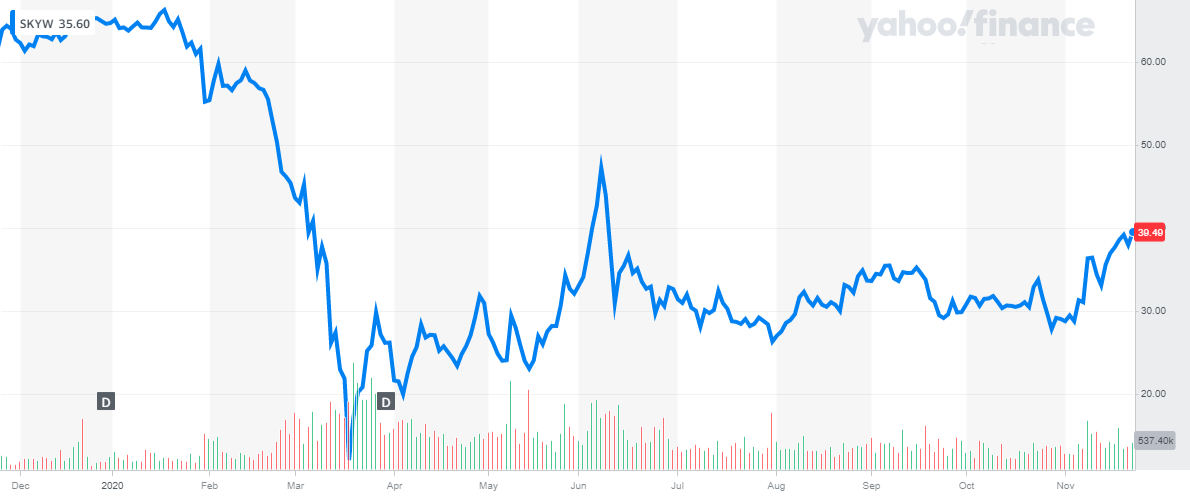 Other valuation multiples are at comfortable levels, too. SkyWest trades for just 0.9 times book value and 0.87 times sales at the time of writing.
And you can see why in the chart above. Despite its robust fundamentals and diversified market position, the stock is still down nearly 36% over the last year.
It seems poised to make up the rest of that ground — and more — very soon.
Carnival Corporation (NYSE: CCL)
The world's largest cruise operator hasn't quite stayed profitable — but it's in far better shape than its peers.
Carnival Corporation (NYSE: CCL) owns a fleet of more than 100 ships across 10 cruise line brands. Seven of those brands are based outside the U.S. and primarily cater to non-U.S. clientele — and that's important given COVID-19's uniquely heavy impact on the U.S.
Half of Carnival's brands operate primarily in Asia and Europe, where reported case numbers are lower and cruise restrictions are generally more lax. Rivals Norwegian Cruise Line Holdings and Royal Caribbean Group by contrast only operate English-language brands, which primarily cater to Americans.
The company hasn't been able to keep earnings above zero over the last three quarters, but it has kept its debt-to-equity ratio to a reasonable 135%. Norwegian and Royal Caribbean both sport ratios over 230%.
Its other valuation metrics — like a price-to-book ratio (P/B) of 0.8 and a price-to-sales ratio (P/S) of 1.23 at the time of writing — are low even if one doesn't account for COVID-19. And its current net margin of -73.39%, while concerning, is still considerably higher than Royal Caribbean's -88.60% or Norwegian's -114.59%.
As you can see above, the stock is still down more than 58% in the last year. Yet as we've discussed, it's clearly better-positioned than any other cruise operator to reverse those losses in the coming months.
Booking Holdings (NASDAQ: BKNG)
Formerly known as Priceline Group, Booking Holdings (NASDAQ: BKNG) is a parent company to several travel fare aggregators and search engines including Priceline, Booking.com, Agoda, Kayak, Cheapflights, Rentalcars.com, and OpenTable.
Like Carnival, part of what makes Booking Holdings so attractive relative to rivals like Expedia is its global diversification. Ninety percent of its revenue was earned outside the U.S. last year.
The company also recently initiated a partnership with Amazon that gives special travel deals to Prime customers and allows Indian Amazon users to buy domestic flights through Amazon Pay.
And like SkyWest, Booking Holdings has maintained an impressive degree of profitability while the rest of the industry has collapsed around it. It has recorded only a single loss in the last four quarters and posted EPS of $12.27 in the most recent one.
Its debt-to-equity ratio of 249%, while high by most standards, is less than half of Expedia's 573%.
The company is pretty richly valued on a P/B basis (16.89) and a P/S basis (9.4) — and on a P/E basis (60.84) for that matter. But it's important not to lose sight of the significance of Booking Holdings' profitability.
It's the only booking service operator that has a P/E ratio at all; the others have undefined ratios due to annual net losses. And given its current P/E of 60.84, its forward P/E of 33.57 means the market expects its earnings or stock price to rise by roughly 81% in the next year.
Booking Holdings has already recovered most of the gains it lost in the spring, as you can see above — but as we've discussed, based on its earnings data, it's due to shoot much higher in the months ahead.
Finding Deep Value in Any Industry
These three stocks are some of the most undervalued in the travel industry. But you can use the same methodology we used today — looking for companies with dominance within their markets, low valuations, strong profitability, and affordable debt burdens — to find value anywhere.
Of course, the one downside to this technique is that it can involve a lot of sifting through SEC filings, market research reports, and other tedious documents to find the valuation data in question.
Fortunately, The Wealth Advisory automates that process for you — and editors Briton Ryle and Jason Williams use those data to select market-beating value stocks year after year. It's how they've built a long-term track record of double-digit annualized gains. Click here to learn more.