By now, unless you've been living under a rock for several months, you've heard about how a small army of retail investors rallied together on social media and sent the price of GameStop (NYSE: GME) — which traded under $10 less than six months ago — to more than $450.
Of course, GameStop did not go "to the moon," as its online bulls say. In recent weeks, it has fallen back down to a double-digit price and continues to sell off.
Since then, three questions about the GameStop revolt have been circulating around the financial internet: Did I miss my chance to buy GME? Will this happen again with other stocks? Which other stocks?
We can answer two of those questions very concisely. Yes, it's too late to buy GME — but yes, this will likely happen again with other stocks.
To answer which stocks, though, we have to take a deep dive into the social media community that created the GameStop craze in the first place — and will likely spawn the next stock mania as well…
R/WallStreetBets and the GameStop Craze
Reddit is the seventh-most-popular website in the United States, recording more than 1.5 billion visits each month. It's a social media platform that is broken down into specialized forums called "subreddits."
There are subreddits for hobbies, like r/Crocheting, subreddits for locations, like r/Baltimore, and subreddits for political affiliations, like r/Libertarian — among many other types of communities. Most of these are relatively calm spaces where a few thousand users respectfully discuss their areas of expertise with each other.
The financial corner of Reddit is different. It's dominated by r/WallStreetBets, a snarky, meme-rich playground of impulsive investors with more than 8 million subscribers.
R/WallStreetBets started as a sort of self-deprecating blooper reel for Reddit's investment community; users would "shitpost" about their most reckless or stupid trading ideas, often with feigned braggadocio for comic effect.
Then Keith Gill — better known by his Reddit handle, u/DeepFuckingValue — got involved.
Gill is a Massachusetts-based financial analyst who posted to r/WallStreetBets in September 2019 about buying 50,000 GameStop shares and 500 GameStop call options — exactly the kind of bold, overconfident trade the subreddit celebrates.
For context, GameStop is a chain of video game stores — mainly located in shopping malls — that has seen a steep decline in fortune since its early 2010s heyday due to falling store traffic and a large-scale shift toward online game distribution.
The company has been unprofitable for several years and gone through a couple of bankruptcy scares; many analysts call it "the Blockbuster of gaming."
But not Gill. He saw a beaten-down value stock whose large population of reward points members and new e-commerce-focused board of directors would deliver it from its bad years. So he went long on the stock and started posting his reasoning on Reddit and YouTube.
Another of Gill's key arguments in favor of an incipient GameStop turnaround was the company's extremely high (>100%) short interest.
Gill pointed out that institutional investors — particularly hedge funds — had bet billions of dollars that GameStop would fail. He believed that the extremely high short interest on GameStop showed that some GME bears were holding "naked shorts" — a risky type of short position that has been illegal since 2008 (though the regulations banning it have been very poorly enforced).
And Gill's comments — especially his theory about one-percenters using nefarious trading strategies to push down GameStop — really resonated with r/WallStreetBets. Over the course of several weeks, the subreddit's GameStop fixation evolved from a joke to a sincere belief that the company was undervalued to eventually a bizarre form of class warfare.
You see, in late January, subreddit users realized that if they inflated GameStop's stock price through a coordinated buying effort, they could do some serious damage to the hedge funds shorting it. So they sent the price up past $450 — and squeezed one short seller, Melvin Capital, so badly that it needed a $2.8 billion bailout from other funds.
At the same time, r/WallStreetBets did the same thing with other heavily shorted tech stocks, including Nokia (NYSE: NOK) and AMC Entertainment (NYSE: AMC).
As you can see above, it's far too late to buy into any of these three stocks. Their crazes have ended and their prices are returning to pre-r/WallStreetBets levels.
But r/WallStreetBets has continued to pick stocks — and there's a distinctive pattern underlying its picks. This pattern is indicative of a subtle but important shift in the stock market since the pandemic: the shift from growth to value.
Why Value Is Finally Overtaking Growth in the Post-COVID World
Throughout the 2010s, growth stocks trounced value stocks. Case in point, legendary value stock picker Warren Buffett's Berkshire Hathaway (NYSE: BRK.B) returned 172% over the last 10 years — compared with a return of 581.88% for growth stock Alphabet (NASDAQ: GOOG).
There were many reasons for the disparity. In the aftermath of the Great Recession, jaded retail investors largely abandoned stock picking in favor of passive investment strategies using index funds — which tend to overweight tech megacaps like Alphabet and Amazon.
Plus, cheap corporate debt and a rosy economic outlook encouraged investors to buy companies that took big risks — even if they didn't necessarily have the financials to secure those risks.
All of that has changed during the COVID-19 pandemic, however.
Millions of out-of-work Americans have stopped programmatically buying mutual funds in their 401(k) accounts in the last year and have instead turned to day trading individual stocks using apps like Robinhood to try to put food on the table.
And the sudden failure of overleveraged companies like Hertz Global Holdings and JCPenney seems to suggest that the era of risky business plans and high debt burdens is over.
In sum, it took a massive global recession to remind investors that a low price multiple is sometimes better than a high sales projection. And no group of investors has learned this lesson better than r/WallStreetBets.
Its three most iconic picks — GameStop, Nokia and AMC — are all beaten-down value stocks. As you can see below, each had suffered a long decline from a previous high before catching the subreddit's attention.
And the subreddit has continued churning out value trading ideas since then. Below, we've screened r/WallStreetBets for posts that lay out a coherent value thesis for a stock.
We've limited our search to up-and-coming posts with between 300 and 3,000 upvotes (a measure of user popularity), and we've run our own value screen against those lists to make sure the watch list below represents Reddit's best value investing ideas.
BlackBerry (NYSE: BB)
Founded in 1984 and based in Waterloo, Ontario, BlackBerry is a multinational technology company.
It is perhaps best known as the developer of the BlackBerry brand of smartphones — an early entry to that market that was quickly displaced by later competing products like the iPhone and Android.
But since then, it has transitioned to selling enterprise software and internet-of-things services. And as an r/WallStreetBets user pointed out in a recent post, it's done quite well in this new core business.
They noted that CEO John Chen — who has been at the company's helm since the mid-2010s — has substantial experience in BlackBerry's new industry after successfully running (and eventually selling) enterprise software firm Sybase (now a unit of SAP).
They also observed that BlackBerry has received more U.S. government cybersecurity certifications than any other software vendor. This emphasis on security is one reason why 18 of the G20 governments are BlackBerry customers, along with two-thirds of the world's auto manufacturers.
And the company's financials and valuation multiples certainly support r/WallStreetBets' long thesis. BlackBerry has a price-to-book-value (P/B) ratio of 4.07 at the time of writing — far lower than that of its peers. Its forward price-to-earnings (P/E) ratio is also substantially better than its trailing P/E, indicating earnings growth in the year ahead.
The firm also has a comfortably low debt burden in contrast to many tech firms — its total debt is equal to just 33% of equity.
World Wrestling Entertainment (NYSE: WWE)
Founded in 1980 and based in Stamford, Connecticut, World Wrestling Entertainment is an integrated media and entertainment company known mainly for professional wrestling, as well as the XFL football league and various film ventures.
The company had an especially bad 2020 for obvious COVID-19-related reasons; the pandemic shut down its lucrative core business of staging live wrestling shows.
But as r/WallStreetBets users pointed out in a recent post, the firm has shown its durability by maintaining profitability during a period when its core business was completely frozen. The company reported earnings per share (EPS) of $0.16 in Q4 2020 — well below expectations but well above zero.
Users also observed that WWE will start to sell tickets to WrestleMania again in March and that the firm's new deal with NBC's Peacock streaming service will likely triple the size of the WWE Network's audience.
WWE's valuation multiples give r/WallStreetBets some credence here. The firm has a respectable P/E ratio of 30.28 — higher than we'd like but lower than most comparable entertainment companies — and a healthy return on equity (ROE) of 38.9%.
Aphria (NASDAQ: APHA)
Founded in 2014 and based in Leamington, Ontario, Aphria is a multinational producer and distributor of cannabis.
The company's stock has seen good days and bad days over the last few years, as investor sentiment on Canadian cannabis companies has whipsawed between bullishness and bearishness. But since the COVID-19 pandemic began, it's had more bad days than good.
According to r/WallStreetBets, that may change soon due to a pending merger with Tilray. The merger presents an arbitrage opportunity for Aphria shareholders who get in before Aphria's price reaches the merger price.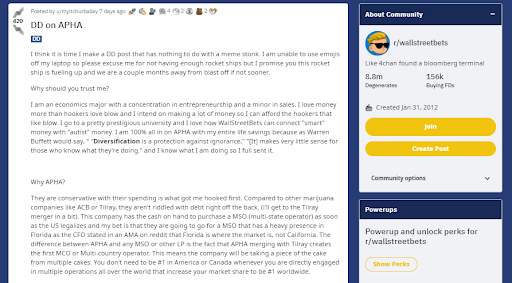 Subreddit users also pointed out that the firm's executives have laid out more concrete plans for entering the American market than its competitors, with a particular focus on the fast-growing Florida market rather than the oversaturated California market. Given the return of the generally pro-legalization Democratic Party to power in the U.S., this is quite important.
Users also noted that the firm spends money more conservatively than its competitors. Its debt-to-equity ratio is just 28.12%, which is astonishingly low for the cannabis industry.
Best Buy (NYSE: BBY)
Founded in 1966 and based in Richfield, Minnesota, Best Buy is the largest consumer electronics retailer in the United States.
Like other brick-and-mortar retailers, the firm has suffered from negative consumer and investor sentiment during the COVID-19 pandemic — but r/WallStreetBets believes that negative sentiment is significantly overblown.
Users cite the firm's $5.1 billion in cash on hand, incredibly low P/E ratio of 15.6, safe 1.87% dividend, and rapid sales growth as reasons why the firm's troubles are behind it.
The Reddit GameStop craze was certainly a novel phenomenon — but in many ways it represents a return to one of the oldest investment disciplines in existence.
It may be too late to get in on GME gains, but r/WallStreetBets will continue picking value stocks for years to come. And investors who keep one eye on Reddit — and the other on the price multiples — could profit handsomely.