Ammonia is one of the most common molecules in the universe, and it's especially abundant here on Earth. The world produces more than 175 million metric tons of ammonia every year, and most of it is used in very boring ways.
Today, ammonia-based fertilizers are the largest single use for the chemical; they're a $20 billion industry in their own right. Its other major applications include refrigerants and cleaning products — nothing particularly exciting.
But all of these uses have something in common: They demonstrate that these little nitrogen-and-three-hydrogen molecules carry a considerable amount of chemical energy.
Source: https://en.wikipedia.org/wiki/Ammonia#/media/File:Ammonia-3D-balls-A.png
The energy source that helps ammonia-based cleaners dissolve messes is the same one that helps ammonia-based fertilizers push up bigger, faster-growing crops. Ammonia has a raw energy density comparable with diesel — and like diesel, its chemical energy can be released directly through combustion.
Unfortunately, one of the best illustrations of ammonia's energetic potential is its widespread use as an improvised explosive. Fertilizer-based bombs have made appearances in many armed conflicts over the last half-century, including the Troubles in Northern Ireland, the U.S.-Taliban conflict in Afghanistan, and the Syrian civil war.
But in recent years, scientists have been working to harness the power of ammonia in a more benevolent way — as a cheap, easy-to-use, and carbon-free energy source.
In this report, we're breaking down some of the emerging technologies that could convert this common, boring chemical into a major contender in the green energy industry — and building a watch list of stocks set to benefit from the coming "green rush" in ammonia.
Ammonia as a Green Energy Source
There are two main carbon-free energy use cases for ammonia.
One is to use it as fuel for a solid oxide fuel cell — a variant on a hydrogen fuel cell that similarly uses ion exchange between two chemically permeable membranes to generate an electric current without combustion or carbon emissions.
Source: https://pubs.rsc.org/en/content/articlelanding/2021/ta/d0ta08810b
The other is to refine it into hydrogen, which can be burned for carbon-free thermal energy or fed into a conventional fuel cell to generate electric current.
Typically, ammonia is made with hydrogen, not the other way around. But due to its extremely low density, hydrogen is hard to handle; it doesn't behave well in pipelines or aqueous storage, whereas ammonia travels easily.
A 2006 U.S. Department of Energy whitepaper had this to say about ammonia's potential role in the growing carbon economy:

Source: https://www.energy.gov/sites/prod/files/2015/01/f19/fcto_nh3_h2_storage_white_paper_2006.pdf
Allied Market Research expects the market for green hydrogen — hydrogen that is refined, stored, and used in sustainable ways — to grow at a compound annual growth rate (CAGR) of 54.7% through 2028, supported by multibillion-dollar incentive programs in the EU and U.S... and ammonia's role in that growth should not be overlooked.
Why Governments and Companies Are Investing Billions in Green Ammonia Technology
To that end, several national governments are investing in green ammonia technology.
Norway's Green Platform Initiative, which awards more than $1 billion each year to sustainable development projects, has been giving an increasing number of grants to green ammonia projects, including a $10 million grant back in September to build the world's first green ammonia terminal in the country.
And Australia is spending US$36 billion to build an "Asian Renewable Energy Hub" in the country, which, among other things, will feature green ammonia and hydrogen production.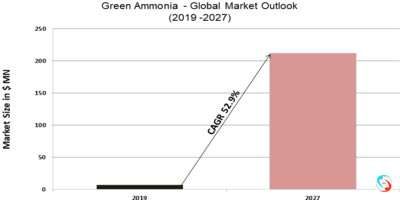 Source: https://www.strategymrc.com/report/green-ammonia-market/description
With all this in mind, it's no wonder that Stratistics Market Research Consulting estimates that the green ammonia market will grow at a CAGR of 52.9% through 2027.
With the right green ammonia stocks, an investor could capture a substantial portion of those gains in the coming years. Let's look at six of the most prominent publicly traded companies in this emerging industry...
AmmPower (OTC: AMMPF)
Founded in 2019 and based in British Columbia, AmmPower is an early-stage tech company that is developing a more efficient and sustainable ammonia synthesis process than the traditional Haber-Bosch process, which is very capital-intensive and often generates secondary greenhouse gas emissions.
AmmPower's ammonia synthesis units are small, clean, and portable — and they produce ammonia that is suitable for fuel cell use or transport.
The company is on the small and speculative side; it is not yet profitable and has a market cap of under $50 million. But it has a reasonable debt-to-equity ratio (56.12) for an early-stage tech startup.
Shares have had a bumpy year, featuring some dramatic bull runs in the summer and more recent lows.
Gencell (OTC: GNCLF)
Another new and relatively speculative entry in the green hydrogen industry is Gencell. Founded in 2011 and based in Petah Tikva, Israel, Gencell is a tech company that manufactures ammonia-powered hydrogen fuel cells that convert ammonia into hydrogen in-unit and then use that hydrogen to generate electricity.
Shares are thinly traded — the company has a market cap under $400 million — but like AmmPower, Gencell has an unusually low debt-to-equity ratio for such an early-stage startup (9.94).
Air Products & Chemicals (NYSE: APD)
On the other end of the green ammonia industry are big firms like Air Products & Chemicals. Founded in 1940 and based in Allentown, Pennsylvania, Air Products is one of the world's largest chemical companies and the largest commercial supplier of hydrogen in the world.
Air Products' operations may not be concentrated in ammonia, but as one of the biggest players in the emerging green hydrogen economy, it's not overlooking ammonia. In fact, the company is in the process of investing $5 billion to develop a green ammonia production facility in Saudi Arabia.
Air Products' income statements show strong earnings growth (19.5% year over year in the most recent quarter) and point to more ahead. The firm's forward price-earnings (P/E) ratio is about a third lower than its trailing-12-month P/E ratio, implying that analysts expect ~33% earnings growth in the year ahead. The firm also pays a dividend with a yield of 1.88%.
Shares have had a rough autumn, but they seem to be in the midst of a recovery at the time of writing.
CF Industries (NYSE: CF)
Another titan in the green ammonia market is CF Industries. Founded in 1946 and based in Deerfield, Illinois, CF is the world's largest ammonia producer.
It's also aiming to reduce its net carbon emissions by 25% by 2030 and zero them out completely by 2050. It's hard to imagine that CF won't take advantage of the potential of green hydrogen production to help meet those goals.
The company also looks great as a value stock. It has a P/E ratio under 10 at the time of writing and pays a 0.52% dividend. Shares have had a great year.
Yara International (OTC: YARIY)
Founded in 1905 and based in Oslo, Yara International is the oldest ammonia producer profiled in this report. It's a diversified chemical company making big investments in green ammonia.
The firm is currently building a green ammonia plant in Australia with more than $30 million in government incentives.
The company's forward P/E is less than half of its trailing P/E, hinting at big expected earnings growth ahead. The company also pays an incredibly generous 8.67% dividend at the time of writing. It's no wonder shares have had an excellent year.
Magellan Midstream Partners (NYSE: MMP)
Founded in 2000 and based in Tulsa, Oklahoma, Magellan Midstream Partners specifically focuses on ammonia transport and is a major operator of petroleum and chemical pipelines.
Magellan's operations consist largely of hydrocarbon fuel transport, but it's also one of the largest operators of ammonia pipelines in North America.
It has a P/E ratio under 15, steady earnings growth (11.80% year over year last quarter), and pays an 8.28% dividend. It's not hard to see the rationale behind the stock's bull run this year.
Another Green Ammonia Play With Big Potential
The six stocks we've profiled above represent some of the most important companies in the emerging green hydrogen industry — but our analysts have made us leave out the one they're most excited about.
Microcap Insider editor Alex Koyfman has been tracking a small, speculative, green-energy-focused ammonia company with just as much potential as the big industrial players we've discussed, if not more.
Koyfman believes the stock is very undervalued and set for big gains in the coming months — and his track record speaks for itself. Microcap Insider readers are up more than 300% on a recent trade on an obscure but important graphene manufacturer.
Read Koyfman's presentation on his No. 1 green ammonia stock right here.