The lithium revolution is well underway. If you haven't jumped on this lucrative bandwagon just yet, there's still time. In fact, there has never been a better time to invest in lithium-mining companies than right now.
We've compiled a list of the top lithium-mining companies for you, along with some detailed information on each of them below…
Top Lithium-Mining Companies:
Ganfeng Lithium Co., Ltd. (002460.SZ)
Albemarle Corporation (NYSE: ALB)
Sociedad Química y Minera de Chile S.A. (NYSE: SQM)
Lithium-mining stocks have been on a tear the last few years as demand for the metal in lithium batteries has skyrocketed.
A look at a chart of some of the most recognizable names in the battery business — Samsung, Panasonic, Johnson Controls, and LG Chem — illustrates this perfectly: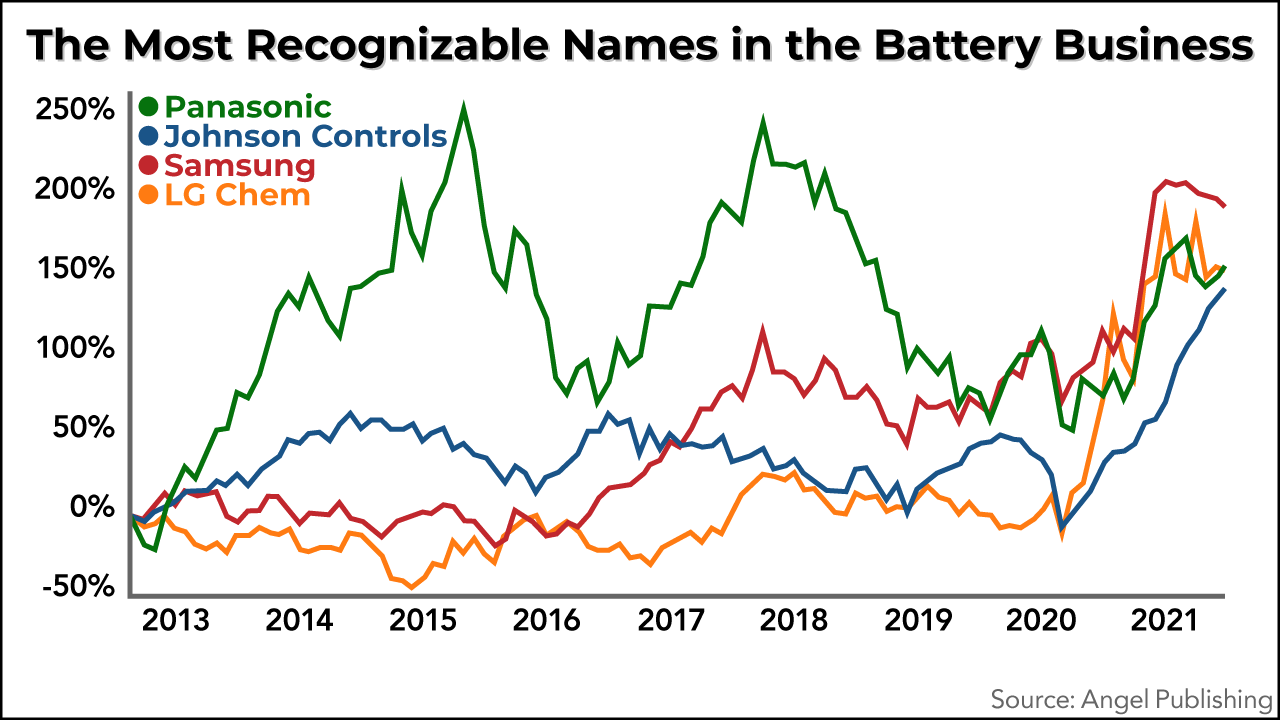 But it's not just the battery makers that are having a good time…
Lithium miners, new and old, are ramping up production to meet the new demand. And the best of them are seeing major gains in their stocks.
Besides its well-known use in the expanding electric vehicle (EV) market, lithium is also essential for cell phones, laptops, and other electronic devices that require long-lasting battery power. It's also used heavily in ceramics and glass products.
While you can play lithium in many areas, like battery manufacturers and developers, those companies must first get their hands on the raw material itself…
The ever-increasing demand for storage capacity is leading some analysts to predict increases in lithium prices for the foreseeable future — which could mean an even bigger jump in lithium-mining companies.
Lithium carbonate hovered around $2,000 per ton from 2000 to 2004 but then started rising with demand. By 2009, it was at $5,000 per ton and now stands at more than $9,000.
And that's just where it can be bought cheaply. In 2018, the price of lithium being imported to China briefly touched $17,000 per metric ton!
And this is where companies that mine lithium come into play…
Today, every company with a single acre in a salt flat or lithium-rich mine is looking to cash in on this trend. Today, we'll be talking about the big three, which have had a near-monopoly on lithium production and prices for years.
These three have focused their operations in the "lithium triangle" of South America. This triangle is located between Argentina, Chile, and Bolivia.
Of these three, the one that can claim the title of the "Saudi Arabia of lithium" has been a debate for years.
Bolivia is home to the world's largest lithium-rich salt flat, the Salar de Uyuni, which is estimated to hold more than half of the world's known lithium reserves.
However, Australia and Chile are the top destinations for producers that are looking to get in on the lithium game. As of 2020, Chile had the highest lithium brine production in the world with 9.2 million metric tons, followed by Australia with 4.7 metric tons.
Titles aside, we're starting with the biggest producer's biggest producer: Jiangxi Ganfeng Lithium.
Jiangxi Ganfeng Lithium (002460.SZ)
Ganfeng Lithium is headquartered in Xinyu, China, but its lithium operations are looking towards the south of our border very soon.
The company has recently proposed to acquire full ownership of the UK's Bacanora Lithium. Bacanora is currently engaged in the Sonora Lithium Project located in Mexico. If fully owned, Gangfeng will be behind an open-pit battery-grade project that will produce 35,000 tonnes a year.
As the largest lithium producer, Ganfeng Lithium produces a wide range of lithium battery supply for use in electric vehicles, energy storage, 3C products, pharmaceuticals, and more.
Sociedad Química y Minera de Chile S.A. (NYSE: SQM)
Chile is home to Sociedad Química y Minera de Chile S.A. (Chemical and Mining Company of Chile, Inc.)
If you are looking to avoid the volatility of the smaller-cap miners, SQM is a safe bet.
SQM produces lithium carbonate for use in lubricant greases, lithium batteries, and ceramic glass.
Notably, one of the company's largest assets is in the Salar de Atacama, or the Atacama Salt Desert.
SQM has exclusive access to lithium reserves there and also to nine production plants to help the company extract "the highest lithium and potassium concentrations currently recorded," according to an article by Proactive.
Albemarle Corporation (NYSE: ALB)
Albemarle, headquartered in Charlotte, NC, has a unique advantage over both the companies above.
After acquiring American lithium company Rockwood Holdings in 2015, the company inherited the Silver Peak lithium mine in Nevada.
Nevada is a notable lithium resource not only because of its vast reserves but also because it's home to one of the Tesla Gigafactories. There, Tesla plans to produce as many as 500,000 battery packs per year and will consume nearly all of today's annual lithium supply to do it.
The company's CEO, Elon Musk, announced early on that Tesla would be sourcing its materials from North American producers first. And this put Albemarle in a powerful position.
The company also has lithium operations in Kings Mountain, NC, and New Johnsonville, TN.
Now, Albemarle announced the opening of the Battery Materials Innovation Center (BMIC) at its Kings Mountain site.
Dr. Glen Merfeld, Albemarle Lithium CTO, expressed excitement over the new center:
The completion of the Battery Materials Innovation Center provides us with realistic and relevant cell-building capabilities to generate meaningful data for next-gen battery material design. With this new resource, we will be equipped to optimize our lithium materials for a drop-in solution for customers that help them deliver high-performing cost-effective batteries for the rapidly growing electric vehicle market.
Outside the U.S., the company also owns a 49% share in a Talison Lithium mine in Australia. Albemarle produces its assets in the Salar de Atacama in Chile and markets its products all over the world, including in Germany, China, India, Japan, Korea, and Taiwan.
If you'd rather go the ETF route, Global X Lithium & Battery Tech ETF (NYSE: LIT) is your best bet.
The past year alone has shot the ETF up by over 20%, as of this writing:
It's worth noting that much of the growth in this ETF has come from these three companies alone.
Jiangxi Ganfeng Lithium, Albemarle, and SQM are (in that order) the largest lithium-mining holdings in the Global X Lithium & Battery Tech ETF, and they stand alongside many of the battery producers listed above.
For a lithium play that's more diversified, LIT is the way to go.
Wealth Daily will be keeping an eye on the lithium-mining market and lithium-mining stocks as this supply-demand story plays out. And we'll be bringing you even more ways to play it…