The Value of Setting Emotions Aside
Posted September 19, 2022
---
Wow! What a week the last one was, huh?
Markets kind of got off to an OK start, but that changed quickly and they ended down a good 4% or more:
Ouch! But there's a way to make money in every market, and I was doing just that thanks to the help of a special tool I've got access to.
I was trading futures last week. And I was practically printing profits as the markets dropped and then rallied and then dropped again.
You might think it's a little stressful trading a market that's moving like this: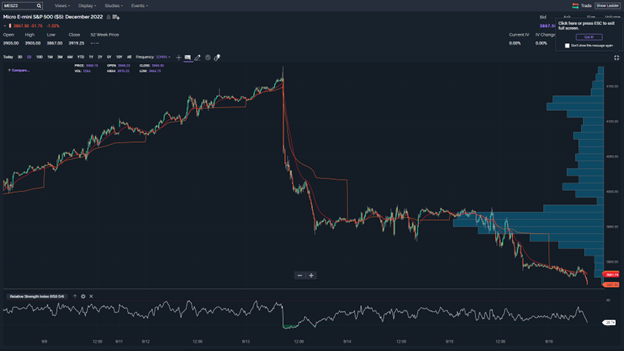 But it's actually been pretty smooth sailing despite how volatile that chart looks.
And the reason it's been so easy is because the tool I mentioned helps me set emotions aside so I'm making decisions based not on how I feel but instead on what the market is feeling.
If the market is feeling bearish, I go short. When the short-term tone changes to bullish, I close my shorts and go long. When it flips back again, so do I.
Having tools like that is what helps the big hedge funds beat the markets and so many of us regular retail investors.
They're able to cut out the emotions that go along with risking your money on an investment because they let machines make the tactical decisions for them.
They're not letting human traders make all those short-term moves. They're relying on something that can move and calculate much faster than any human trader…
They're using high-frequency trading programs, or algorithms.
And back when I got my start in finance, that's what they were using at the big investment banks like Morgan Stanley as their last resort to protect and grow their wealthy clients' accounts.
Out of the Frying Pan
You see, I got my start on Wall Street in the midst of the worst global recession we've seen since the Great Depression.
Back in 2008, markets were coming unglued and the world seemed to be falling apart as a housing bubble burst and took the stock and bond markets crashing down with it.
Massive companies were going bankrupt thanks to bad bets they'd made on mortgage-backed securities.
The US. government had to step in with taxpayer funds to bail out the ones that didn't fall in the first wave of the collapse.
And the panic was palpable in the trading rooms and executive offices at our bank. We were not left out of the action.
But it was barely a blip on the radar for our super-wealthy clients thanks to the trading programs we used to help allocate their funds.
And while the big banks got bailed out by the taxpayers who'd just lost 75% of their savings in the market crash, our wealthy clients got even wealthier.
It wasn't something I was especially proud of. Sure, I was making money in the markets at a time when just about NOBODY else could.
But I was making it for the wrong people. Or at least, I felt they were the wrong people.
I was helping people who could lose 75% of their savings and still have more money than they'd ever be able to spend. They didn't need my help.
But I was watching as my parents and friends parents lost 50%–75% of everything they'd spent a lifetime saving for retirement.
And nobody was stepping up to help them, even though they were the ones bailing out big banks like ours.
So I learned everything I could while I was there in the thick of it all…
Then I turned my back on Wall Street so I could help the right people next time something like that market crash and ensuing recession happened.
And today, I find myself in the midst of another market crash that's going to lead to another deep global recession.
But this time, I'm here to help the right people. I'm here to help Main Street.
And I'm here to help with the exact same kind of system I used to help those super-wealthy folks back on Wall Street.
Good Times in a Bad Year
It's probably an understatement when I say it's been a pretty tough year for stock market investors.
I mean, the big indexes are all down double digits since the start of the year:
But it hasn't been all bad. It's actually been mostly good for the investors I've already been able to help with the system we used as our last resort on Wall Street.
Back in February, my system picked up some unusual activity in a company called DLH Holdings…
Now, DLH isn't a big-name stock you're going to hear people talking about at the bar after work.
The Best Free Investment You'll Ever Make
Join Wealth Daily today for FREE. We'll keep you on top of all the hottest investment ideas before they hit Wall Street. Become a member today, and get our latest free report: "How to Make Your Fortune in Stocks"

It contains full details on why dividends are an amazing tool for growing your wealth.
After getting your report, you'll begin receiving the Wealth Daily e-Letter, delivered to your inbox daily.
It's a small company that offers technology-enabled business process outsourcing, program management solutions, and public health research and analytics services.
But it was showing signs of a coming rally and my system flagged it for an investment.
Over the next two months, shares wouldn't stop going up, and by the time we closed our position, the chart looked like this:
We were looking at a 21% winner while the market had eked out 2.5%. I don't have to tell you that's almost 10 times less than our gain.
Then, a little later in the month, my system flagged another little-known stock for investment.
It was a small mining company called Falcon Minerals. Nobody knew it at the time, but Falcon was getting ready to merge with another company.
Well, somebody knew it, because they were buying and it sent a signal to my system, so we bought too.
A few weeks later, word got out about the merger and shares really took off! We were in and out in a couple of months and scored a 40% gain!
We even got a few dividend payments before closing it out that bumped our total gain to 55%!
Then, in April, on the same day we were taking those sweet profits off the DLH Holdings trade, my system flagged another potential buy.
For some reason, investors were quietly loading up on a company called Earthstone Energy Inc.
It's a small independent oil and gas company that engages in the acquisition, exploration, development, and production of oil and natural gas properties.
So we added it to the portfolio. And within two short months, shares had shot up 55% and we were closing out another massive winner!
And all the while, the market had fallen nearly 10%!
Not long after we closed out that stellar gain on Earthstone, the system kicked up another buy signal on another small company you've probably never heard of: Resolute Forest Products.
Boring name; exciting trade! We bought into Resolute for a little over $13 a share…
Not even a full month later, we sold it for more than $20 a share and cashed out a 57% gain!
I've put the S&P 500 into all of these charts to give you an idea of what the markets were doing while we were cashing in those double-digit winners.
Because if the market was up 50%, it's not that impressive to get a 50% winner. You know what they say: "A rising tide lifts all ships."
But the market wasn't soaring at all while we were cashing out winner after winner. In some cases it was falling sharply. In others it was barely moving.
In all cases, the investment my system kicked out beat the market by leaps and bounds.
This Has NEVER Been More Important
And this week, it became even more incredibly obvious that the worst of the market sell-off is not behind us.
And the worst of the economic turmoil isn't either.
We are going to be in a recession next year.
And it will be a global recession at least as deep as the one that hit in 2008.
That's why it's more important to me than ever to share this system with everyone I can.
That's why I'm offering VIP access to it through my investment advisory service, Alpha Profit Machine.
And that's why I'm imploring you to join me and my community of investors TODAY…
Because I don't know when the bottom will really fall out. And I don't know exactly how far stocks will fall before they start to recover.
But I don't have to, and you won't either if you take advantage of the system Wall Street uses as its "last resort" for protecting profits and growing portfolios during times of strife.
So since I really don't have enough space here to explain how the system works or show you how successful it's been, I've attached a report with all the details.
You can read it at your leisure and then decide if my system is right for you and your investment goals.
I really hope you decide that it is, because I'm convinced it is the ONLY thing that can protect your portfolio from what's ahead of us.
But you're going to have to make that final decision for yourself.
I hope you choose wisely…
To your wealth,
Jason Williams
@TheReal_JayDubs

Angel Research on Youtube
After graduating Cum Laude in finance and economics, Jason designed and analyzed complex projects for the U.S. Army. He made the jump to the private sector as an investment banking analyst at Morgan Stanley, where he eventually led his own team responsible for billions of dollars in daily trading. Jason left Wall Street to found his own investment office and now shares the strategies he used and the network he built with you. Jason is the founder of Main Street Ventures, a pre-IPO investment newsletter; the founder of Future Giants, a nano cap investing service; the editor of Alpha Profit Machine, an algorithmic trading service designed specifically for retail investors; and authors The Wealth Advisory income stock newsletter. He is also the managing editor of Wealth Daily. To learn more about Jason, click here.
The Best Free Investment You'll Ever Make
Sign up to receive the Wealth Daily newsletter - it's absolutely free! In each issue, you'll get our best investment research, designed to help you build a lifetime of wealth, minus the risk. Plus, by signing up, you'll instantly receive our new report: Surviving the Coming Economic Collapse.
We never spam! View our Privacy Policy
After getting your report, you'll begin receiving the Wealth Daily e-Letter, delivered to your inbox daily.