The ONLY Way to Protect YOUR Money
Posted July 29, 2022
---
The GDP print came in yesterday. As I predicted, it came in negative (which is the opposite of what the big banks like Goldman Sachs and the mainstream media like The Wall Street Journal were saying).
I only mention that in case you were wondering why your Wealth Daily subscription is 100 times more valuable than any Wall Street Journal subscription.
It's because we say what we're thinking and not what we're told to think. It's because we're not beholden to some billionaire who's beholden to some politician.
It's because we're immersed in the markets, just like those guys at Goldy and the WSJ, but we also understand what it's like to be a regular person.
We're not part of that elite group who thinks they know better than you. We don't think you're dumb.
That's why we don't try to lie to you. That, and we're pretty honest people to begin with.
But anyway, I digress. My point isn't that we're better than them (we are, but that's not my point).
My point is that you already knew what was coming long before yesterday. And that's because you pay attention.
So I hope you're paying attention when I say this: Bear markets are mean, but recessionary bears are ferocious!
The average bear market drops about 26%. The average recessionary bear market drops 39.6%.
But that's an average. The routs run the gamut from only 20% to a whopping 86%...
And they also run for an average of 18 months.
So far, the S&P 500 is down 16% for the year. But it's been lower. The drop to June's lows made the YTD loss 23% at that point.
And we're almost eight months into the slump.
So, now that we know the economy is slowing and a recession is likely here already, we can say this is a recessionary bear market.
And we can see that we haven't seen even the first half of the drop we should be expecting.
We can also see that, on average, we've got 10–11 months before the markets come out of this funk.
So don't fall for the rally we're about to see. The worst is not over. It's only just begun.
But, with that being said, you don't need to worry about any of it.
And why's that, you might be wondering? Well, it's because of what I'm about to share with you…
Wall Street's "Last Resort"
Remember on Monday when I was telling you a little about my career? How I got my start on Wall Street in the throes of the last crash and recession?
Well, I learned a lot while I was there.
And because of the timing, I learned exactly what those big banks use to make sure their clients NEVER lose.
I mean, we were in the depths of a recession. The stock market was getting trashed and would eventually fall 56% before bottoming: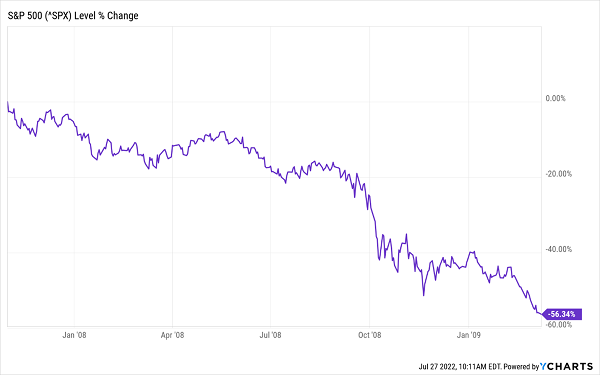 But our super-wealthy clients were sitting pretty on top of their mountains of cash.
The only change for them? Bigger mountains.
And how did they do it? Or more so, how did we do it?
Well, we had access to reams of financial data and we also had access to super-powerful computers and artificial intelligence algorithms that could comb that data for deals.
We didn't need to make massive wins. We just needed to make little gains on massive bets.
And with the machines combing through the data and all that data for them to analyze, our clients basically never lost.
It was literally the last resort when all else had failed. It was the only thing left to protect our clients' profits.
And it did an incredible job.
The Best Free Investment You'll Ever Make
Join Wealth Daily today for FREE. We'll keep you on top of all the hottest investment ideas before they hit Wall Street. Become a member today, and get our latest free report: "How to Make Your Fortune in Stocks"

It contains full details on why dividends are an amazing tool for growing your wealth.
After getting your report, you'll begin receiving the Wealth Daily e-Letter, delivered to your inbox daily.
But there was one MAJOR flaw (in my opinion, at least). And that was the cost. You literally had to be a multimillionaire to afford our services.
So only the super-wealthy could afford to take advantage of the system and protect themselves during the downturns.
And that just didn't sit well with me…
Super-wealthy people already have a lot of money. It's why we call them "super-wealthy."
The people who really need and, more importantly, deserve that kind of help can't afford it.
Or at least, not when it's coming from an investment bank like my former corporate home.
So when I finally got fed up working for a system that took from those in need to give to those with too much, the first thing I did was to recreate that trading system.
Because my mission is to give retail investors like you, your families, my family, and all our friends the same kind of protection and profitability that I delivered to my multimillion-dollar clients at Morgan Stanley.
A Better Mousetrap
I'm no computer programmer, though. So I sought out the best in the business to help me develop my own "Last Resort" trading system.
I hired developers and programmers who'd helped design the same systems for firms like my old employer.
And we set to work analyzing data and back-testing scenarios and reverse-engineering the system that had saved my clients in the last financial crisis.
But when we finished, we realized we hadn't done what I'd planned. We hadn't recreated the same program I'd used at Morgan…
We'd made something even better!
In every single market correction, downturn, crash, and full-on recession we've tested it in, this system has outperformed not only the markets, but the vast majority of fund managers (the ones who charge millions for their services) too.
And looking at the data and the markets and what the system is telling me RIGHT NOW…
I can't keep this to myself any longer. I HAVE to share it.
It's the ONLY thing that can protect your assets from what's heading our way.
It's already helped me outperform the markets by triple digits this year as it's done EXACTLY what it was designed to do: protect our capital.
And now I want it to help you avoid the massive crash still coming our way.
It's screaming "BUY!" on three stocks in particular right now and I want to share them all with you.
But I'm running out of space here.
So I've attached a full report on the situation as I see it right now, the system that's helping me beat this market into submission, and how it can help you protect what's yours and profit during the worst economy in decades.
All you've got to do is take a few more minutes and check it out yourself.
Just don't wait too long. The market isn't done falling and I don't want you losing your savings.
I want you to protect and grow them, and I've got the ONE thing that's all but guaranteed to help.
So take a little time, check out my system, and get invested in those companies poised to soar as the economy and market flop.
And keep an eye out for my article next week. I'll introduce you to some alternative investments anyone can make that aren't getting trashed as the market rout gets worse.  
To your wealth,
Jason Williams
@TheReal_JayDubs

Angel Research on Youtube
After graduating Cum Laude in finance and economics, Jason designed and analyzed complex projects for the U.S. Army. He made the jump to the private sector as an investment banking analyst at Morgan Stanley, where he eventually led his own team responsible for billions of dollars in daily trading. Jason left Wall Street to found his own investment office and now shares the strategies he used and the network he built with you. Jason is the founder of Main Street Ventures, a pre-IPO investment newsletter; the founder of Future Giants, a nano cap investing service; the editor of Alpha Profit Machine, an algorithmic trading service designed specifically for retail investors; and authors The Wealth Advisory income stock newsletter. He is also the managing editor of Wealth Daily. To learn more about Jason, click here.
The Best Free Investment You'll Ever Make
Sign up to receive the Wealth Daily newsletter - it's absolutely free! In each issue, you'll get our best investment research, designed to help you build a lifetime of wealth, minus the risk. Plus, by signing up, you'll instantly receive our new report: Surviving the Coming Economic Collapse.
We never spam! View our Privacy Policy
After getting your report, you'll begin receiving the Wealth Daily e-Letter, delivered to your inbox daily.