Medical Marijuana Millions
Posted November 30, 2018
---
By now, you all probably know that Canada, less than a month after bringing legal cannabis to the people, ran out of the new cash crop.
And you probably also know that the country is still feeling the crunch. Dispensaries are limiting their hours because they just don't have enough product to stay open all the time.
Some companies have hired staff to watch for new cannabis inventories to become available. And they're working around the clock — literally 24 hours a day, seven days a week.
Watchers say several thousand dollars in inventory will become available — at times in the middle of the night — and will be drawn down within minutes.
Simply put: Canada doesn't have enough marijuana.
Another Cannabis Crash?
That news is leading to drops in lots of the major cannabis names like Canopy, Cronos, Aphria, and Aurora. But it's not a continuation of the crash we saw in October.
Short-term investors (or gamblers, as I like to call them) are running scared. Why?
Well, the dispensaries aren't able to remain open because there isn't enough cannabis to sell. And that means revenues are going to fall below expectations and earnings are going to be short, too.
Whether they're open or not, these companies have fixed costs. They've got to pay rent. They hired extra staff — recently to watch for more product, but previously to handle the massive demand.
So even when the shops are closed, the companies are still shelling out cash.
That's bad news for short-term investors. But it's some of the best news long-term investors could have ever dreamed of.
Canada ran out of pot. The market is bigger than even the most bullish analysts and best-prepared companies expected.
That means we're going to see even more growth in the future than anyone even came close to predicting...
Think about this: Last year, I was having trouble convincing folks that the global cannabis industry could bring in $46 billion a year by 2020. Now, analysts are predicting Canada's market could be as high as $75 billion.
Just Canada. Nobody else. Keep in mind Canada's GDP is about the same as that of California. And its cannabis market alone could grow to $75 billion a year.
Really Good at Being Bad
I've often contemplated the life of a weather forecaster, a professional baseball player, and an economist.
Not that I'd really like to be any of them. I've just thought about how great it would be to be able to be wrong most of the time and still be considered an expert.
I mean, the weather forecast isn't really accurate until you can stick your head out the window and see for yourself. And economists' predictions only truly work in a perfect world.
Then you've got baseball players. Think about it. If a player bats .500, he'll make it into the Hall of Fame. He may even go down as the greatest hitter ever. But all he did was his job. And he only did it right half the time.
Wall Street analysts are a lot like these guys. They're really good at making the wrong prediction. And they're proving it all over again with the cannabis industry.
Canada isn't the only place that suffered a cannabis crunch after opening its markets. That's happening all over the place. Even right in my own backyard...
My home state of Maryland opened its medical cannabis market last year. Analysts were predicting the first year of sales would be around $46 million.
But when the stores all sold out of product within the first week, I knew the analysts had been wrong again. I knew this market was going to be way bigger.
And as the first year of legal cannabis in Maryland draws to a close, my state is proving me right.
We're looking at $100 million in revenue. That's more than twice what was predicted. And it's only the beginning.
Maryland's dispensaries have been slow to open. And the state only gave out a few licenses to grow legal marijuana. So, those numbers could have been way higher.
And if we can get a recreational initiative passed, they'll grow exponentially bigger.
Maryland is just a small drop in the bucket, though. This is a global industry. And it's going to be bigger than any of us can imagine right now.
But investing in it is still pretty scary when you see 30% swings in a month, 15% drops in a day, sometimes even worse losses rolling into your portfolio.
Growing Volatility
The growers have been the focus of most attention. They're the only ones the media talks about, so they're the only ones most investors know about.
But they've been swinging wildly because of all that interest.
They've been up and down and just all over the place. One quarter's gains erased in the blink of an eye.
But up until October, they looked like the best bet in the cannabis market. They were volatile, but they were bouncing ever upward.
Then reality struck. Investors started to pull gains out. Fear a bubble was bursting set in and stocks dropped even further. And the growers lost a lot of their gains and all of their momentum.
But that whole time, there was a little-known company steadily growing profits for its investors. It wasn't running like the growers. But it wasn't plunging like them, either. And it was spinning off actual cash profits to its shareholders.
Now, more people are starting to catch wind of this company. But since it doesn't have a physical connection to cannabis — meaning it doesn't grow, process, distribute, or sell the products — it's still flying mostly under the radar.
But the great thing about this company is that without the resources it provides, the entire industry would crumble.
Well, that's one of the great things. The best part of this investment is really the profit. And that's because it's not just numbers on a chart. It's cold, hard cash delivered right to your bank account.
You read that right. This company pays investors to invest. And it has to keep paying them as long as it operates. I call the payments "Reefer Royalties" because they come straight out of the company's pot profits.
It's got a special deal with the government and gets special treatment. That's why it can operate as a multi-state company in a market that's still considered illegal by the federal government.
And that's why its investors are getting steadily richer while other cannabis investors are just getting more ulcers.
Growing Profits
Earlier in the year, I was having trouble convincing folks of the innate value this company had. Sure, the guarantee of cash payments is nice. But unless they add up to more than the massive gains growers were seeing, why invest?
In fact, all the way up to October, Canopy — the largest of the growers — was outpacing my investment. It was a very bumpy ride, but it was still up more...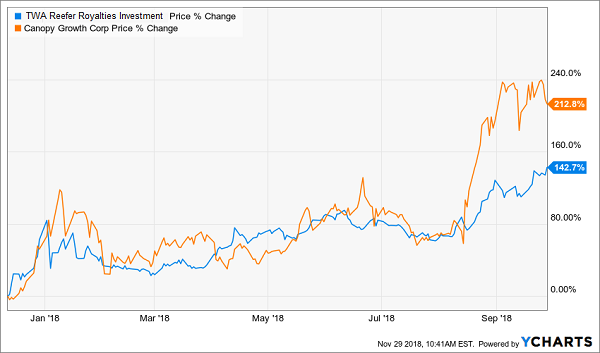 But then that fateful crash in October took Canopy down over 30%. Our "Reefer Royalties" stock fell, too, but Canopy's losses were 100% worse — literally:
Now I'm feeling pretty smart for sticking to my guns. I knew these growers were overvalued. I knew a drop was coming. And I knew the latent value in my investment would start to really shine as the others faded.
The Best Free Investment You'll Ever Make
Stay on top of the hottest investment ideas before they hit Wall Street. Sign up for the Wealth Daily newsletter below. You'll also get our free report, Marijuana Outlook: Best Stocks to Buy.
And November proved me very right. Our "Reefer Royalties" investment soared over 20% this past month. And Canopy continued its descent, dropping another 10% plus some...
Now, the investors who took my advice almost a year ago today are sitting on a profit far greater than anyone who bought into Canopy at the same time. In fact, if you'd taken my advice any time in the past year, you'd have at least some profit. Anyone who bought Canopy after September is sitting on a loss.
And when you include those sweet, dependable, guaranteed cash payments in the gains, the difference in profit gets even bigger...
If you'd listened to me last year and gotten invested, you'd be sitting on a 160% gain. That's nearly 50% more than if you'd listened to the other analysts and bought Canopy.
Sure, a 110% gain is great. But a 160% one is better.
Time's a Wastin'
There's still time for you to get invested in this amazing stock, however. And there's still so much more room for our profits and cash payouts to grow.
Nearly every month, analysts boost estimates for the global cannabis market. It was $46 billion last year. Now it's $75 billion in Canada alone.
Nearly every day, another U.S. state gets closer to legalization. New Jersey is within inches of getting legal cannabis approved. Maryland is considering a recreational amendment.
The president thinks it's a matter for the states to decide. The House is held by a party that's traditionally more progressive about things like this.
This industry is real. And it's only going to keep growing. We're going to be making millions from legal cannabis for decades to come.
But the longer you wait, the more profits you miss.
It's time to act. But you've got to make a decision before you do...
Do you want your money in stocks whose performance charts look like this?
Or in an investment with bigger gains and a smoother ride?
If you're like me and you'd prefer the gains without the grief, take a moment to view this presentation. You'll get all the details you need to start investing and collecting "Reefer Royalties" immediately.
Or, if you'd prefer to take a little more time to read a report about the opportunity, you can access that by clicking here.
Just promise me you'll give it a look.
If I just cared about my own money, I'd have stayed in investment banking.
I'm in this business to help everyone get rich. I've helped a lot already. But I'm nowhere near finished.
Give me a shot to help you, too.
To your wealth,
To your wealth,
Jason Williams
@TheReal_JayDubs

Angel Research on Youtube
After graduating Cum Laude in finance and economics, Jason designed and analyzed complex projects for the U.S. Army. He made the jump to the private sector as an investment banking analyst at Morgan Stanley, where he eventually led his own team responsible for billions of dollars in daily trading. Jason left Wall Street to found his own investment office and now shares the strategies he used and the network he built with you. Jason is the founder of Main Street Ventures, a pre-IPO investment newsletter; the founder of Future Giants, a nano cap investing service; the editor of Alpha Profit Machine, an algorithmic trading service designed specifically for retail investors; and authors The Wealth Advisory income stock newsletter. He is also the managing editor of Wealth Daily. To learn more about Jason, click here.
The Best Free Investment You'll Ever Make
Sign up to receive the Wealth Daily newsletter - it's absolutely free! In each issue, you'll get our best investment research, designed to help you build a lifetime of wealth, minus the risk. Plus, by signing up, you'll instantly receive our new report: Surviving the Coming Economic Collapse.
We never spam! View our Privacy Policy
After getting your report, you'll begin receiving the Wealth Daily e-Letter, delivered to your inbox daily.