How to Profit from Congressional Insider Trading
Posted February 24, 2019
---
Corporate insiders know a lot of valuable secrets about publicly traded companies. Technically, insider trading laws state that they're not supposed to use their access to insider information to enrich themselves in the stock market.
But they do. And as long as they promptly file a disclosure after each transaction, it's legal.
A couple weeks ago, I taught you how to use EDGAR to look up these disclosures — and how to incorporate them into your due diligence process.
Today, I'm going to teach you how to profit from the publicly disclosed trades of an even more powerful group of insiders: your elected representatives.
How Is Congressional Insider Trading Legal?
As you can see from the chart below, members of Congress have historically done very well in the stock market compared to lowly commoners like us. Representatives have done almost as well as corporate insiders, and senators have done even better.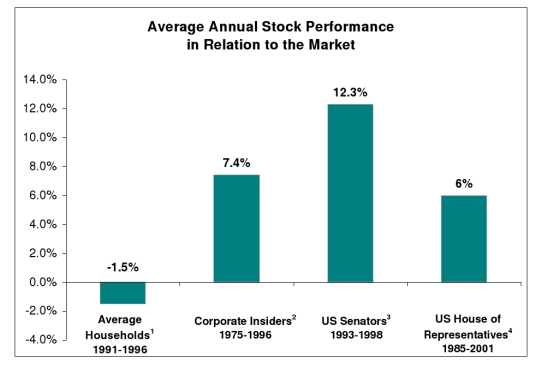 Source: ProCon.org
It's easy to understand why members of Congress would have an advantage in the stock market. They're privy to all sorts of sensitive information: economic data, geopolitical news, upcoming changes to regulations and tax policy, etc.
It's less easy to understand why it's legal for them to trade on this information.
Actually, no it isn't. They're Congress. They decide what is and isn't legal.
President Obama attempted to crack down on the widespread practice of congressional insider trading with the 2012 Stop Trading on Congressional Knowledge (STOCK) Act. The law instituted strict online financial disclosure requirements for elected representatives and their staff. And it worked... sorta. For a little while.
From 2011 to 2012, the number of stock transactions made by Congress fell by more than half, as they all had to disclose their transactions in a searchable online database. But then in 2013, Congress neutered the law in a quick procedural vote by greatly loosening the online disclosure requirement.
Fortunately, the House of Representatives still posts members' financial disclosures in a searchable online database. Let's learn how to use it...
How to See What Your Representative Is Buying and Selling
First, go to this page. You can also get there by googling "house of representatives financial disclosure reports" or by going to clerk.house.gov and clicking "Public Disclosure" and then "Financial Disclosure Reports." It should look something like this:
Type the last name of the representative you want to search into the "Last Name" field, and then click "Search." You don't need to fill out the "State," "District," or "Filing Year" fields, although they may be helpful in refining search results if your representative has a common last name.
(A quick reminder that this database only contains information on representatives, not senators. You would think this would be obvious, but I myself searched "Schumer" and "McConnell" before I realized why it wasn't working.)
Go to the bottom of the last page of search results and click on the latest filing marked "FD" (Financial Disclosure) or "PTR" (Periodic Transaction Report). Both contain information on your representative's recent transactions.
For this example, I've used the current House Majority Leader, Rep. Steny Hoyer (D, Maryland). However, Rep. Hoyer doesn't have any transactions disclosed in his most recent filing. So for the sake of bipartisanship, I'm going to pick on House Minority Leader Kevin McCarthy (R, California) for the rest of this section. Here are his search results:
Clicking on the most recent filing will open up a PDF file of the report. FDs will look something like this:
Scroll down to "Schedule B: Transactions." It's usually on the second page. Here, you'll find a complete list of all the securities that Rep. McCarthy bought in 2017. A "Tx. Type" of "P" indicates a purchase, an "S" indicates a sale, and an "E" indicates an exchange.
As you can see above, Rep. McCarthy bought three domestic-focused growth funds right around when the Tax Cuts and Jobs Act was passed in late 2017. And sure enough, two of them have outperformed the S&P 500 since that time.
We'll talk more in a moment about what to do with this information. First, for the sake of completeness, let's go over how to read the other type of filing.
The Best Free Investment You'll Ever Make
Stay on top of the hottest investment ideas before they hit Wall Street. Sign up for the Wealth Daily newsletter below. You'll also get our free report, "Seven Techincal Analysis Tools for Investors."
How to Read a Periodic Transaction Report (PTR)
For this example, I'm going to use the latest PTR from Rep. Mike Kelly (R, Pennsylvania). You can find it in these search results:
PTRs are a bit trickier to read because they are handwritten and in landscape format. Your PDF viewing program (even if it's just your browser) probably has a way to rotate these kinds of documents so you don't have to crane your neck to read them.
As you can see below, Rep. Kelly bought some shares of Duke Energy (NYSE: DUK), Norfolk Southern Corp. (NYSE: NSC), and Procter & Gamble (NYSE: PG) in December 2018.
And whaddaya know — one of those stocks, Norfolk Southern Corp., has more than doubled the performance of the S&P 500 so far this year...
But how useful is this information to the average investor, really?
The answer is quite useful — as long as you have realistic expectations about how to use it.
How to Profit from Congressional Insider Trading (and How Not To)
First, let's go over how not to use this information. If you try to day trade on your representative's transaction reports, you're gonna have a bad time.
Congress isn't exactly known for its speed and efficiency; these reports are often filed and posted in arrears. The disclosure from Rep. McCarthy, for example, was a 2017 FD that wasn't posted online until the summer of 2018. So it won't give you a short-term trading advantage.
On the other hand, if you're rebalancing your 401(k) or IRA and trying to decide which mutual funds to bulk up on this year, recent congressional purchases might give you some useful inspiration. Especially if the representative in question is a member of the party that controls the House.
As we saw above, Rep. McCarthy bought a bunch of U.S.-focused growth funds right when the then-Republican House passed the Trump tax cuts. Indeed, domestic growth stocks were big beneficiaries of that tax cut, and they've done very well since then.
With this in mind, you might want to keep an eye on stock purchases by Democratic representatives in the months ahead. They now control the House.
The party's latest agenda item, the Green New Deal, spearheaded by Rep. Alexandria Ocasio-Cortez (D, New York), could bring major changes to our economy if it's implemented. And it could funnel a lot of money into renewable energy investments. Energy and Capital editor Luke Burgess recently wrote about it here.
No matter what craziness comes out of Washington next, you now know how to see which members of Congress are profiting from it.
Until next time,

Samuel Taube
Samuel Taube brings years of experience researching ETFs, cryptocurrencies, muni bonds, value stocks, and more to Wealth Daily. He has been writing for investment newsletters since 2013 and has penned articles accurately predicting financial market reactions to Brexit, the election of Donald Trump, and more. Samuel holds a degree in economics from the University of Maryland, and his investment approach focuses on finding undervalued assets at every point in the business cycle and then reaping big returns when they recover. To learn more about Samuel, click here.
The Best Free Investment You'll Ever Make
Sign up to receive the Wealth Daily newsletter - it's absolutely free! In each issue, you'll get our best investment research, designed to help you build a lifetime of wealth, minus the risk. Plus, by signing up, you'll instantly receive our new report: Surviving the Coming Economic Collapse.
We never spam! View our Privacy Policy
After getting your report, you'll begin receiving the Wealth Daily e-Letter, delivered to your inbox daily.