How to Profit from Biotech Mergers and Acquisitions
Posted June 30, 2019
---
Bristol-Myers Squibb (NYSE: BMY) and Celgene (NASDAQ: CELG). Eli Lilly (NYSE: LLY) and Loxo Oncology (NASDAQ: LOXO). And now AbbVie (NYSE: ABBV) and Allergan (NYSE: AGN). Big biotech mergers and acquisitions are happening left and right these days.
In the process, they're driving big gains in the prices of the companies being acquired. Allergan stock jumped more than 35% after the announcement that AbbVie would try to buy it for $188.24 per share.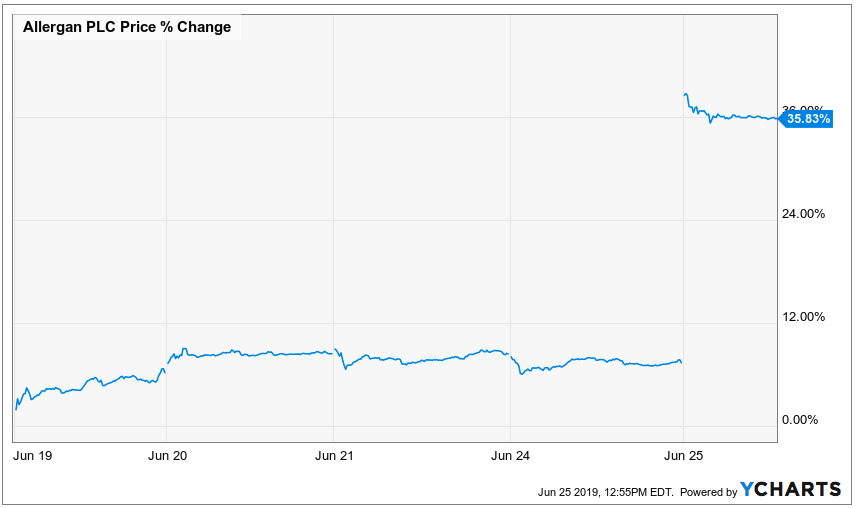 What is driving so many large biotech firms to get hitched? Why do they offer to buy their targets at such substantial markups? And how can you ensure that you profit from these mega-mergers?
Let's take a deeper dive into the complicated world of biotech mergers and acquisitions...
Why Biotech Mergers Are So Common in 2019
One of the biggest motivations for the current round of mergers is the upcoming 2020 election cycle.
No matter what's going on in the White House or Congress, elections are a big deal for any large company.
Even a relatively small change in the balance of power — like one of the houses of Congress flipping — could have big effects on our future tax policy, trade relationships, and antitrust law enforcement.
With that in mind, it's no wonder that mergers and acquisitions tend to spike before election years...
Sources: Thomson Reuters, CNBC
Growth and drug pipeline maintenance is another motivation. AbbVie's blockbuster drug Humira is approaching the end of its patent period, as is Bristol-Myers Squibb's Orencia and Eli Lilly's Humalog.
Given the substantial costs of developing new drugs, these firms may find that acquiring other companies is a relatively cheap way to add drugs to their pipelines.
Interest rates, which never entirely recovered after the Great Recession and may now be headed downward again, provide a third incentive for the current spree of mergers and acquisitions. Low rates make leveraged buyouts cheaper for companies.
Now that we've looked at the causes of the biotech merger frenzy, let's look at the potential upsides and downsides...
The Risks (and Rewards) of Mergers and Acquisitions
There's a reason biotech acquirers offer to buy shares of their acquisition targets at a double-digit premium. And there's a reason the acquisition target's share price tends to rest somewhere between the market price and the offer price while the deal is being finalized.
Mergers and acquisitions are risky. Shareholders and governments sometimes try to block them, and markets adjust the price of the acquisition target around the chance of success.
When these deals succeed, they can deliver instant gains to shareholders of the acquisition target. That's what happened when St. Jude Medical, a device company, was acquired by Abbott Laboratories (NYSE: ABT) back in January 2017.
After seeing St. Jude's stock price jump roughly 25% from $60 to $80 after the merger was announced, St. Jude's shareholders collected an additional 6% when the deal was finalized at roughly $85 per share.
Source: Barchart.com
These may not be mind-blowing gains, but they're not too shabby when you consider that all the St. Jude's shareholders had to do was keep holding their shares for a few months.
The Best Free Investment You'll Ever Make
Join Wealth Daily today for FREE. We'll keep you on top of all the hottest investment ideas before they hit Wall Street. Become a member today, and get our latest free report: "The Top Three Biotech Stocks"

It contains full details on biotech stocks that are hidden in the haystack.
In a sense, the premium that investors can earn by holding through acquisitions is compensation for the risk of the deal falling through — which can have serious consequences for the acquisition target.
Although the failed merger between Broadcom (NASDAQ: AVGO) and Qualcomm (NASDAQ: QCOM) was not a biotech merger, it provides a good example. After the U.S. government blocked the deal last March, Qualcomm saw its share price fall by more than 20% in just two months.
In summary, successful mergers can deliver effortless gains to shareholders of the acquisition target, and unsuccessful mergers can send shares tumbling.
The only way to determine whether a merger attempt will succeed or fail is by staying abreast of any legal challenges or shareholder revolts against the transaction.
Fortunately, there's a more precise way to earn large, short-term gains from biotech stocks than by gambling on mergers...
An Even Easier Way to Win Big Biotech Gains
The drug approval process has some similarities with the merger process. It's a complicated process that often takes multiple years and faces a series of legal hurdles, and its outcome can send biotech stocks soaring or plummeting.
But there's one important difference between these processes. The success or failure of a merger is based on the fickle opinions of shareholders and government regulatory bodies, while the success or failure of a new drug candidate is determined entirely by clinical trial data.
Topline Trader is a new biotech trading service that allows you to reap the huge gains won by successful early-stage drug developers without reading through hundreds of pages of studies.
Its investment director, Jason Stutman, works with a pool of more than 200 doctors, scientists, and other biotech industry insiders to determine each new drug's chance of success — and to position subscribers to cash in. Click here to learn more.
Until next time,

Samuel Taube
Samuel Taube brings years of experience researching ETFs, cryptocurrencies, muni bonds, value stocks, and more to Wealth Daily. He has been writing for investment newsletters since 2013 and has penned articles accurately predicting financial market reactions to Brexit, the election of Donald Trump, and more. Samuel holds a degree in economics from the University of Maryland, and his investment approach focuses on finding undervalued assets at every point in the business cycle and then reaping big returns when they recover. To learn more about Samuel, click here.
The Best Free Investment You'll Ever Make
Sign up to receive the Wealth Daily newsletter - it's absolutely free! In each issue, you'll get our best investment research, designed to help you build a lifetime of wealth, minus the risk. Plus, by signing up, you'll instantly receive our new report: Surviving the Coming Economic Collapse.
We never spam! View our Privacy Policy
After getting your report, you'll begin receiving the Wealth Daily e-Letter, delivered to your inbox daily.