Did You Get Your Black Friday Bonus Check?
Posted December 5, 2022
---
It was quite a week for online retailers in the United States.
Or I guess I should say it was quite a weekend…
Because in the five days from Thanksgiving Thursday through Cyber Monday, U.S. consumers set three new records for online sales.
On Thanksgiving, we spent $5.29 billion shopping online between bites of turkey and sips of wine.
Then, on Black Friday, we went and spent another $9.12 billion.
Those figures broke records for both days. But they barely compared to what we did at work a week ago…
On Cyber Monday, Americans spent a whopping $11.3 BILLION more!
During the peak hours, between 5 p.m. and 6 p.m. Eastern time, we were spending a mind-blowing $12.8 million EVERY MINUTE!
And over the weekend in between Black Friday and Cyber Monday, we dropped $9.66 billion collectively.
That's a total spend over the weekend of $35.37 BILLION and a 4% increase over last year.
And you may remember from my recent article that Jeff Bezos' Amazon.com regularly takes in about a quarter of the U.S. holiday online spend.
So, doing a little simple math, we can estimate that Amazon brought in nearly $9 BILLION in just one long weekend!
That's a ton of cash no matter how you stack it.
And this year, Amazon is giving some of it back. You can think of it as a kind of "Black Friday bonus check."
Traditions Are the BEST
Around the world, people celebrate the holiday season differently with different traditions:
About a decade ago, when Amazon was still worth "only" a few hundred billion dollars, long before it was a trillion-dollar company, it quietly started its own tradition: a program to give back to the people helping it grow.
There was no fanfare or major announcement. The management never even mentioned it in an earnings call.
But it started, and a decade later, it's still going on. And even after all those years, I'd bet that at least 90% of investors have no idea they can get annual payments from Amazon.
And I'd bet that if they knew how much those payouts can add up to, they'd be pretty upset to be left out of the party.
You see, those payouts have added up to a grand total of nearly $12 BILLION!
And this year, that number is about to skyrocket… because the program is set to pay out another $3 BILLION for 2022!
Aren't traditions great!?
The Best Free Investment You'll Ever Make
Join Wealth Daily today for FREE. We'll keep you on top of all the hottest investment ideas before they hit Wall Street. Become a member today, and get our latest free report: "How to Make Your Fortune in Stocks"

It contains full details on why dividends are an amazing tool for growing your wealth.
After getting your report, you'll begin receiving the Wealth Daily e-Letter, delivered to your inbox daily.
Life-Changing Pocket Change
It's a drop in the bucket for Amazon, a company that's brought in $502.2 BILLION in revenue in the last 12 months…
And it's a pittance for Jeff Bezos, the founder, whose personal net worth clocks in at about $120 BILLION!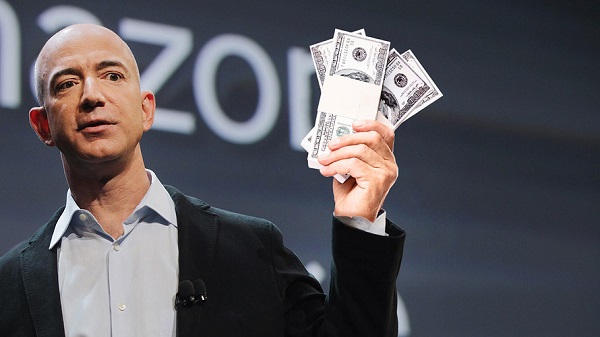 It basically amounts to pocket change when you're used to looking at numbers that big…
But it's life-changing cash to people like us.
And literally all you have to do is tell them you want it and let them know how much of it you want.
It's that simple! So simple that all you need is a mouse, an internet connection, and a pulse.
You can even do it from your smartphone or tablet. So technically, you don't even need a mouse.
It'll only take a few minutes of your time, but it could completely change your life as you start collecting annual payments from this MULTIBILLION-DOLLAR bonanza!
We're talking about a whole extra salary (or more) for most folks.
I don't know about you, but I could always use a few extra paychecks around Christmastime.
Coming Soon to a Bank Account Near You
And since the big shopping weekend is finally in the books…
And since it set a record for retail sales…
And since Amazon scored a good quarter of those sales…
The payment will be coming very soon.
In fact, it'll be sent out in just a matter of days.
Next week, on December 15, the individual payouts will get split from the big pool.
Everyone who gets on the list before the close of business that day gets however much they ask for.
Anyone who waits to sign up and misses the deadline (even by a single second) won't even get a lump of coal.
It's incredibly easy to get on the list. And the payout is guaranteed money.
In a market like this, I'll take all the guaranteed wins I can get my hands on.
I'm guessing you're feeling the same. So I've put together all the details on how to get your piece of this massive payout come December 15.
All you've got to do is watch my presentation or read my report on the opportunity and you'll be ready to get yourself on the list to be paid next week!
I sure hope you'll take advantage of the payments.
But if you don't, I won't be upset…
That just means more money for the rest of us to split.
I highly suggest you take a look at my instructions, though.
This is life-changing money. And it's yours if you want it.
To your wealth,
Jason Williams
@TheReal_JayDubs

Angel Research on Youtube
After graduating Cum Laude in finance and economics, Jason designed and analyzed complex projects for the U.S. Army. He made the jump to the private sector as an investment banking analyst at Morgan Stanley, where he eventually led his own team responsible for billions of dollars in daily trading. Jason left Wall Street to found his own investment office and now shares the strategies he used and the network he built with you. Jason is the founder of Main Street Ventures, a pre-IPO investment newsletter; the founder of Future Giants, a nano cap investing service; the editor of Alpha Profit Machine, an algorithmic trading service designed specifically for retail investors; and authors The Wealth Advisory income stock newsletter. He is also the managing editor of Wealth Daily. To learn more about Jason, click here.
The Best Free Investment You'll Ever Make
Sign up to receive the Wealth Daily newsletter - it's absolutely free! In each issue, you'll get our best investment research, designed to help you build a lifetime of wealth, minus the risk. Plus, by signing up, you'll instantly receive our new report: Surviving the Coming Economic Collapse.
We never spam! View our Privacy Policy
After getting your report, you'll begin receiving the Wealth Daily e-Letter, delivered to your inbox daily.