Are We Still in a Bear Market?
History says so...
Posted August 10, 2022
---
"You know, I know most families are focused on just putting three meals on the... table, taking care of their kids, and paying their bills. Helping you do that is my job. It's the president's job as well." — Joe Biden
---
Market indexes sold off Friday after a strong trading week.
Selling intensified this week.
That's because the government keeps pumping money it doesn't have into the economy, which equals more inflation.
The president just signed the CHIPS Act into law yesterday, which gives billions of dollars in subsidies and tax breaks to domestic chipmakers (more on that below)...
But at the same time, the Senate just passed a sweeping climate, healthcare, and tax package.
To everyone's surprise, the so-called Inflation Reduction Act won't actually decrease inflation and will undoubtedly increase it.
Probably not the best idea in the middle of a recession.
Biden's even rumored to forgive $10,000 in student loans this year, which will of course raise inflation even more.
And the new "strong" jobs numbers that came out?
They just mean the Fed may have to raise rates more aggressively, something Fed Chair Jerome Powell vowed he wouldn't do.
Here's a snapshot from the Bureau of Labor Statistics...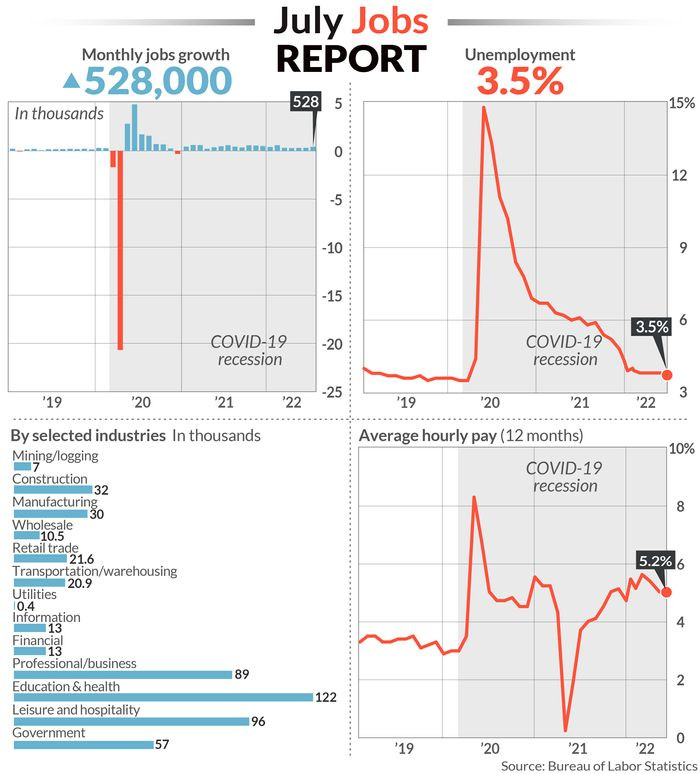 So even though the U.S. added more than double the jobs than originally forecast, the average hourly wage rose just 0.5% in July.
That's not even close to keeping up with the 9.1% inflation rate.
On top of that, these jobs will flood the economy with even more money, putting more upward pressure on inflation.
After all, inflation occurs when too much money chases too few goods.
The Fed knows this and so do investors, which is why markets are teetering and investors are taking profits whenever they can, proving that, yes, we're still in a bear market.
Not to mention the food and energy crisis in Europe, which will only worsen this winter, putting more upward pressure on global food and energy prices.
You won't be hearing much about that in the mainstream media, though.
The Best Free Investment You'll Ever Make
Join Wealth Daily today for FREE. We'll keep you on top of all the hottest investment ideas before they hit Wall Street. Become a member today, and get our latest free report: "How to Make Your Fortune in Stocks"

It contains full details on why dividends are an amazing tool for growing your wealth.
After getting your report, you'll begin receiving the Wealth Daily e-Letter, delivered to your inbox daily.
Don't Listen to Big Brother
Whatever you do, don't watch the talking heads on TV.
Here's proof...
In classic herd mentality, the mainstream media told investors to buy stocks last week as the market slightly rebounded.
On CNBC's Halftime Report Wednesday, their panel of so-called experts said it was time to buy because prices were low.
I mean, look at this headline...
In reality, prices were actually high!
This was at the TOP of last week's bear market rally!
And what happened the next day?
Of course, the indexes reversed lower.
Funny how that works.
The fact is this rally had been building up for months, and if you've been following me, you know I've been telling Wealth Daily readers to buy, ensuring they get in at the bottom, not the top.
Then you've got Seeking Alpha writing a story about PayPal's rebound.
But where were these so-called analysts when the stock was getting hammered?
Why didn't they see the rebound coming?
It's because no one's willing to think outside the box — except for our readers, of course.
I'm looking out to next year because things could start to get really bad for Europe this winter if the war keeps raging.
The U.S. seems to be OK for the time being.
And now that we've moved chip production back home, it could really do great things for domestic chipmakers.
The CHIPS Act Is Law... Now What?
Biden's ink is probably still wet on the pages of the CHIPS Act.
It's set to make it rain on all the chipmakers.
Should have been a good place to put your money, right?
This chart says otherwise...
It hasn't had the intended effect on a lot of the big chipmakers.
Our veteran geopolitical analyst Christian DeHaemer believes Intel, NVIDIA, and AMD have too much foreign exposure to get their fair share of the CHIPS bill.
That's why there's such a downtrend.
But the chipmaker Chris recently recommended to his subscribers is on a serious upswing right now.
It's truly the only pure-play semiconductor manufacturer in the U.S.
He's so confident, he thinks it could provide 100x returns to investors as soon as next year.
To access the stock information, all you have to do is watch his presentation.
You've still got time to make your move.
While the bulls and bears battle it out, you can get positioned today.
Stay free,

Alexander Boulden
Editor, Wealth Daily

Check us out on YouTube!
After Alexander's passion for economics and investing drew him to one of the largest financial publishers in the world, where he rubbed elbows with former Chicago Board Options Exchange floor traders, Wall Street hedge fund managers, and International Monetary Fund analysts, he decided to take up the pen and guide others through this new age of investing.
The Best Free Investment You'll Ever Make
Sign up to receive the Wealth Daily newsletter - it's absolutely free! In each issue, you'll get our best investment research, designed to help you build a lifetime of wealth, minus the risk. Plus, by signing up, you'll instantly receive our new report: Surviving the Coming Economic Collapse.
We never spam! View our Privacy Policy
After getting your report, you'll begin receiving the Wealth Daily e-Letter, delivered to your inbox daily.